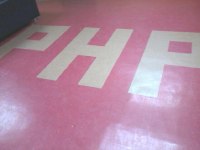 Image courtesy of Positive Health Project.
We are proud to announce a new partnership with the Positive Health Project (PHP), which will strengthen PHP and expand access to services for New Yorkers most at risk of HIV/AIDS and hepatitis B and C.
Positive Health Project was founded in 1993 to provide syringe exchange, peer support and other prevention services to injection drug users and other vulnerable New Yorkers. PHP has also championed prevention and peer support services for people of transgender experience, and in total, serves over three thousand people per year.
Charles King, Housing Works' President and CEO said, "I am delighted that PHP has become an affiliate of Housing Works. In addition to continuing the fine services provided by PHP, we will be able to offer PHP consumers the opportunity to participate in the full array of services that Housing Works provides for people living with HIV/AIDS, persons at risk of HIV and hepatitis infection, and low income people living with other chronic conditions, including addiction and mental illness."
For those unfamiliar with PHP, they were pioneers in the Harm Reduction movement, which focuses on reducing drug users' risk of harm to themselves and others through safe injection and other strategies that can minimize disease transmission and giving people control over their lives.
Like PHP, Housing Works too has always followed a harm reduction philosophy, offering health care, housing, and other essential services to drug users in New York. Now, with the addition of PHP to our community, it will serve as a powerful opportunity to empower a larger Manhattan community to advocate for these rights and services.
Housing Works will offer care coordination and mental health services at PHP's service center located at 301 West 37th Street, as well as primary care and other health services at its two locations: the West Village Health Center and Keith D. Cylar House and Health Center.
Please welcome PHP to the Housing Works' family! You can learn more about PHP and their services here.