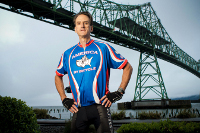 Barry at Astoria-Megler Bridge in Astoria, Oregon -- at the starting line. Photo credit: Dan Machnik Photography.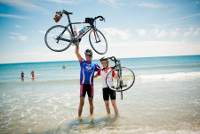 Barry with Laurie Kelley, founder and president of Save One Life, who joined the ride on the last day from Manchester to Wallis Sands Beach in Portsmouth, N.H. Photo credit: Dan Machnik Photography.
46-year-old Texan rides in remembrance of family and friends lost due to contaminated blood products and raises funds for Save One Life, Inc.
Georgetown, Mass. -- Barry Haarde, a 46-year-old from Texas, is the first person with hemophilia and HIV to ride across the United States on a bicycle, raising funds for Save One Life.
Save One Life matches children and young adults who have hemophilia in the developing world with sponsors in the United States to help defray the financial costs of living in poverty with a chronic, life-threatening disorder. Currently more than 1,000 individuals are assisted in ten countries with monthly sponsorships of $20. As Save One Life sends all sponsorship funds overseas, it must raise all operating funds independently.
Starting in Astoria, Oregon on June 17, Barry rode 50 days with outfitters America By Bicycle to successfully dip his wheel in the Atlantic Ocean at Wallis Sands State Beach in Rye, New Hampshire on August 6.
Barry's accomplishment comes after much physical hardship. Barry contracted HIV in the 1980s from contaminated blood products used to treat his severe hemophilia. He also contracted hepatitis C, which required four years of grueling interferon treatments, during which he almost lost his life.
Barry was just five years older than Ryan White, who also had hemophilia and gained notoriety when expelled from school in 1985 due to his HIV status. Ryan was one of nearly 10,000 people with hemophilia who lost their lives to HIV/AIDS in the 1980s.
With memories of Ryan fresh in his mind, "I was terrified that my life would be ruined," Barry states, "so I didn't publicly reveal my HIV status until 2008." Once Barry made that courageous choice, however, he has been an increasingly vocal advocate for the hemophilia and HIV communities ever since.
An avid cyclist, Barry approached Laurie Kelley, founder of Save One Life, in 2011 to propose a ride across America to raise funds. With support of Save One Life and its donors, including Baxter Healthcare Corporation, Barry's "Wheels for the World" campaign became a reality in June. His 3,667-mile adventure took him through Oregon, Idaho, Wyoming, South Dakota, Minnesota, Wisconsin, Michigan, Ontario, New York, Vermont and New Hampshire. Each day he rode in memory of a hemophilic friend lost to AIDS. Many friends and fans sent donations to Save One Life, so that children and young adults whose lives are still at enormous risk may hope for a better future. When Barry dipped his wheel in the Atlantic after 50 days of touring, his first comment was, "Let's do it again next year!"
This article was provided by Save One Life.