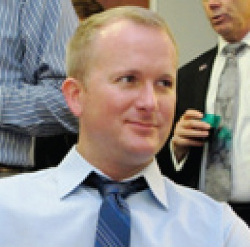 Robert Caldwell, Ph.D..
There's growing excitement about what look like real cures of HIV infection, using donor stem cells to rebuild damaged immune systems -- even though the treatments are too brutal for any but the sickest cancer patients who also happen to have HIV. So we asked Rob Caldwell, Ph.D., to join us in this issue ofPositive Voice to give us some solid scientific background on the work being done with stem cells.
Rob received his Doctorate in Cellular and Molecular Pathology from Vanderbilt University School of Medicine, specializing in Infectious Disease and Cancer Biology. He is currently a biochemist for a defense contractor in Washington, DC and can be reached at robertcaldwell@me.com.
When a researcher hears the words "stem cell," various diseases come to mind for which stem cell therapy may play a pivotal role in treatment or cure. Such diseases include diabetes, tissue regeneration and wound healing. Stem cell transplantation is already seen as a viable treatment option for acute myeloid leukemia (AML), for example. Stem cells can be considered the "Coat of Many Colors" in cellular biology. When exposed to different concentrations of various biological materials, stem cells can differentiate (or turn into) to a plethora of different mature cell types, such as CD4+ T-cells, macrophages, bone cells, and brain cells. But when a few researchers implanted stem cells into HIV-infected individuals, the results were astonishing.
This edition of "What's New In Research" summarizes the molecular biology and clinical outcome of the effects of stem cell transplantation on HIV infection.
Advertisement
To attach to and enter target cells, HIV requires both CD4 and a coreceptor, the most common being CCR5. The virus utilizes CD4 to bind to the target cell, whereas after binding to CCR5, the virus is able to "inject" its RNA and other "support proteins" into the cell. The pathologic importance of blocking the CCR5 coreceptor by drug inhibitors or through genetic manipulation has been highlighted in several studies. Results of these studies agree that, without complete or normal expression of CCR5, the vast majority of cells that normally could be infected by HIV are rendered immune to the virus. In fact, approximately 1% of the white population confers natural resistance to HIV infection due to a single mutation in the target cell CCR5 coreceptor. This fascinating CCR5 single amino acid mutation that renders HIV immunity is referred to as "CCR5 Delta32."
In February, 2009, the New England Journal of Medicine reported a scientifically intriguing study led by Dr. Gero Hütter from the Charité School of Medicine in Berlin, Germany, titled, "Long-Term Control of HIV by CCR5 Delta32/Delta32 Stem-Cell Transplantation." In this single patient study, the researchers successfully transplanted CCR5 Delta32 stem cells into the HIV-positive "Berlin Patient" to treat his AML. Prior to the transplant, the "Berlin Patient" had been maintaining a regimen of HAART for several years and his viral load and CD4+ T-cell count were well within a healthy range. After transplant, the patient discontinued HAART to aid in his recovery from the transplant. Although risky to discontinue HAART for any period, it was critical for the "Berlin Patient" to recover from his cancer. Startling was the effect of the CCR5 Delta32 on his HIV disease.
Although discontinuation of HAART typically leads to a rapid rebound of HIV load within weeks, in the "Berlin Patient," no active, replicating HIV could be detected 20 months after HAART had been discontinued. This observation is remarkable because CCR5 Delta32 is associated with high but not complete resistance to HIV. Incomplete resistance can be explained by the behavior of non-CCR5-tropic HIV variants, such as CXCR4-tropic HIV strains (X4), which are able to use CXCR4 as a coreceptor. The switch occurs in the natural course of infection, and the proportion of X4 strains increases with ongoing HAART. Nevertheless, alhough the patient had non-CCR5-tropic X4 variants and HAART was discontinued for more than 20 months, HIV virus could not be detected in peripheral blood, or various HIV reservoirs such as bone marrow or rectal mucosa. Therefore, the "Berlin Patient" will not require HAART for as long as the viral load continues to be undetectable. The researchers' findings underscore the central role of the CCR5 receptor during HIV infection and disease progression, and serve as a novel therapeutic approach by which to hopefully eradicate HIV from the body -- by engineering the body a new immune system.
Following this study, another study was published that utilized stem cell transplantation as a modality to eradicate HIV from two patients. Two HIV-infected men are showing no traces of HIV in their blood after going through stem cell transplants similar to the one the "Berlin Patient" received, according to a study presented at the XIX International AIDS Conference by Daniel Kuritzkes, M.D., from Brigham and Women's Hospital in Boston. Both patients underwent stem cell transplantation for treatment of lymphoma after being on HAART for about four years. The first patient was born with HIV and started HAART three to four years before the transplant, while the second acquired HIV through sex in the 1980s and started HAART in 2003 before receiving a transplant in 2007.
Prior to the transplants, both men had undetectable viral loads, but still had HIV in hidden reservoirs. In contrast to the "Berlin Patient", they received a milder form of chemotherapy just before their transplants and were able to stay on HIV treatment throughout the transplant process. While the "Berlin Patient's" donor cells lacked the key CCR5 receptor, the two men received donor cells that did have the CCR5 receptor and were fully susceptible to HIV. However, because they were able to remain on HAART during the transplant period, the donor cells were not infected with HIV.
"We believe that continual administration of effective ART protected the donor cells from becoming HIV infected as those donor cells eliminated and replaced the patients' own immune cells, effectively clearing the virus from the patients' blood lymphocytes," Dr. Kuritzkes said.
One of the men has been followed for two years and the other for three and a half years. While both are still on HIV treatment, neither shows traces of HIV in their blood plasma and purified CD4+ T cells. They are also showing a significant decline in HIV antibodies, suggesting a lack of HIV replication.
In conclusion, stem cell transplantation approaches to HIV therapy hold great promise for future curative interventions in HIV patients. Replacing lifelong HAART by a once-in-a-lifetime treatment would have numerous benefits for patients and the health care system.