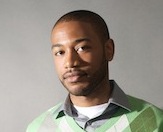 NMAC's Kali Lindsey.
NGMHAAD is for one of this country's "key populations:" men who have sex with men. It's not the only one. There are transwomen who fall into sex work because no one will hire them for anything else. People who take up injection drugs to dull the pain of truly awful lives. And in communities of color -- women. Imagine the prospects for controlling HIV in whole communities where half the population is a "key population."
This year's United States Conference on AIDS (USCA), coming September 30-October 3 in Las Vegas, will focus on HIV and women's issues. USCA is a signature annual program of the National Minority AIDS Council (NMAC), and we had the pleasure of asking NMAC's Kali Lindsey what we can expect in Vegas next month.
Positive Voice: Kali, tell us about USCA this year -- what should we be looking forward to?
Kali Lindsey: Well, as many people know, due to the many writings Paul Kawata has been sending out over the year, this is an exciting time for NMAC -- number one, because NMAC is commemorating 25 years of building leadership in communities of color to address the challenges of HIV and AIDS in the United States.
And this year, we're commemorating NMAC's 25th anniversary in the context of our changed mission, which articulates our new focus on developing leadership in communities of color to end the HIV/AIDS epidemic. NMAC was founded in Las Vegas during the first American Public Health Association Conference that actually addressed HIV and AIDS, which occurred in Las Vegas -- a soon-to-be NMAC board member, Craig Harris, stormed the stage, took the mike, boldly said that HIV was an issue in communities of color but no one on the dais was from a minority community, and demanded to be heard. Following that display, several members met in the trailer park behind Circus Circus and determined that there was a need for the National Minority AIDS Council to be formed. Several efforts went into place after that, and the National Minority AIDS Council was officially formed in June, 1987.
Advertisement
So this year comes at a very important time -- because we're coming to this epidemic at a never-before time when we finally have the appropriate science, evidence, and policy to really have an opportunity to end this epidemic, whether through enhancements like Treatment-as-Prevention or Pre-exposure Prophylaxis -- antiretroviral therapy not only has a role in improving the health of people living with HIV, which is of course the primary goal, it also can play a significant role in preventing onward infections among HIV-negative people who are sexual partners of individuals who may or may not be aware they are HIV-infected. And of course we know that the vast majority of HIV infections that occur in this country occur between individuals of unknown serostatus. Even with pre- exposure prophylaxis on the scene, individuals have an opportunity to protect themselves from HIV acquisition, even when their partner's status is unknown, which only rein-forces other proven, effective strategies, such as use of condoms, sexual partner selection, and sexually positioning to reduce riskiness. The pre- exposure prophylaxis is not a "silver bullet," it's not going to be the best solution for everybody -- in fact, I don't think it's going to be a solution for a lot of people. But pre-exposure prophylaxis gives us an additional tool to protect sexual help and move us that much closer to ending the epidemic.
To commemorate our 25th anniversary, and to herald this opportunity we find ourselves upon, we have retooled USCA to start, at least for the next four years, with an HIV Summit to End HIV/AIDS in America. We broke that down over four years, and we're going to approach it differently, each of those four years. The first year is going to be about planning the second year's going to be about training, the third year's going to be about implementation, and the fourth year is going to be about evaluation.
We know the epidemic isn't distributed uniformly across the country. We know it's concentrated geographically and socially in hot spots. How can we get at the hot spots -- and, perhaps even more important, how can we get at what is causing the hot spots?
Well, I think that's part of the conversation. Number one, I think we're starting to go down that path. Whether that's in high-incidence cities, whether it's in the urban environments where we're seeing the largest amount of infection, or whether it's retooling the Part D program so it's not focused just on perinatal transmission, but is focused on young gay men, young MSM, who are acquiring HIV in large numbers, or women of color, who are also impacted disproportionately by this disease -- you know, it's important that we support and help those decisions and redistributions that work for our community.
And that why we are focusing on women as this year's target or focus group for USCA. We know all too well that the epidemic among women is complex. Women are largely not the transmitters of HIV. Often times, their risk is related to their sexual partners' behavior, whether that be sex with another person, injection drug use, or some other form of exposure, perhaps through some kind of medical procedure. But whatever the case may be, women are being exposed to HIV, and in many cases they have limited control over their sexual health -- PrEP may be able to change that. And of course, that's the other complexity: not only do they know how HIV is coming to them, but oftentimes they are in predicaments where there is very little to do to control their sexual health. There may be relationships with histories of domestic violence, or intimidation, where they don't feel they can advocate for the use of a condom, or even a female condom, or any other proven effective application that can reduce risk of infection. Or if they're in an impoverished community, and access to condoms means a choice between whether they're going to provide food for their family or protect their sexual health. Even those women who find themselves without a partner or a loved one, because he's been incarcerated, because unfortunately in some of our communities violence is really high. People have lost partners to gun violence and other extreme acts of violence, and that puts the woman who relied on additional income from that partner economically and for family rearing, they now need to support entire families without that additional partner. And all these things go together to exacerbate HIV risk among women, particularly women of color, women by themselves in settings where access to resources is challenging, and also women who find themselves in communities where histories of incarceration are signifi-cantly disproportionate.
And that's why it's so important for USCA to be about women's issues this year?
That's right, that's why it's so important that we focus on this -- particularly recognizing that so many new HIV infections are occurring among women in the South. Recently the ISIS Report indicated that, among a small group of women they evaluated, the HIV infection rate among those women was higher than was anticipated in the study. We don't want to be too hasty in interpreting that analysis as saying there's a larger impact on African-American women at large than the CDC reported. We don't know that. We can't extrapolate too highly on the basis of that report, but what we do know, as was also confirmed in the HPTN 061 Brothers study, is that when we start to look at these smaller populations and cohorts, we start to see that undiagnosed HIV is even more severe, particularly in the African-American community, and we need to shine a light and target attention on whatever the social determinants of HIV vulnerability are in these communities that continue to be disproportionately impacted, so that we can really not just provide access to care and testing, once they're HIV-positive, but start to do more upstream to reduce vulnerability and HIV incidence in the community.
Kali, thank you so much! We'll see you next month in Las Vegas!