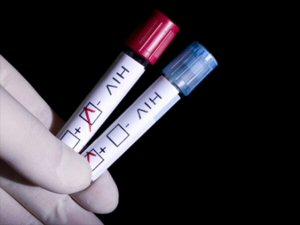 Image courtesy of topnews.ae.
What a difference six years can make. Today news broke that the U.S. Preventative Services Task Force is planning to recommend that HIV testing become a standard part of all routine check-ups for all patients, making HIV testing akin to the ways in which doctors regularly test for diabetes, heart disease, and other chronic illnesses. It was only in 2005 that the same task force stated that doctors should use their discretion when deciding whether or not to test patients for HIV/AIDS.
Making HIV testing part of routine care is, of course, a position that AIDS activists and many physicians have advocated for years now. Routine HIV testing has the immediate potential to facilitate a powerful increase in HIV data collection and getting people treated earlier, but it also has the tremendous power to help curb HIV stigma.
Advertisement
Stigma still drives the disease in ways that the medical community is often unable or unsure of how to address (see, for instance, a
New York Times
article about the obstacles to ending AIDS that
doesn't even address stigma
). Stigma and fear of the disease is what continues to drive the erroneous
criminalization of HIV
across the globe and in 33 states at home. And stigma is still what leads many to eschew regular HIV testing.
With the possibility of the U.S. Preventative Service Task Force potentially (and probably) making the recommendation for routine HIV testing by the end of the year, HIV testing will no longer be isolated along axes of identity, behavior, or geography, but will instead reach all populations, including those who have been previously overlooked, such as older adults and heterosexual adults. While HIV testing for all is by no means a silver bullet, it will bring testing and the realities of that testing home to populations that have often perceived themselves impervious or outside of the scope of the disease.
At the same time, HIV testing for all may usher in an era that also reduces the stigma of doctors talking to their patients about their sex lives -- number of their partners, gender of their partners -- and assessing risk and creating a care plan tailored to each patient's needs.
It's not the most mind-blowing recommendation, but it's a start.