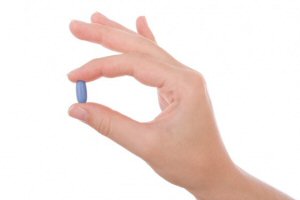 Image courtesy of everybodysgood.com.
Earlier this month, the CDC released recommendations that pre-exposure prophylaxis, or PrEP -- an anti-HIV medication -- be used as a preventative for uninfected heterosexuals at "high-risk" for contradicting HIV. This recommendation expands the CDC's previous recommendation that PrEP be used as a preventative measure primarily for men who have sex with men (MSM) and comes on the heels of the federal Food and Drug's approval of the medication.
While heterosexuals do, of course, populate the 50,000 of those newly infected with HIV every year in the country, it remains very nebulous what hidden costs lie beneath the recommendation.
Advertisement
For one, in a
study
conducted by Beth Israel Deaconess Medical Center and the Fenway Institute -- both in Boston -- found nearly 20 percent of MSM self-reported that they were would be less likely to use condoms if they were taking PrEP. That's one in five MSM. Others have decried the recommendation because it may do
more harm than good
, and that the recommendation was
too rushed to be completely conclusive
.
Many people living with HIV/AIDS have called this move to make PrEP, its most popular incarnation as Gilead Science's Truvada pill, a ruse by a big pharmaceutical company to ultimately market and make profits off of individuals who aren't carrying the disease.
Indeed, the average cost of Truvada? $1,200 a month, or $14,400 per year. And that's a high out-of-pocket cost for a medication whose long-term effects are still unknown, though immediate side-effects have included severely reduced bone density and toxic infections of the liver and kidney.
Still, others like Housing Works' own Larry Bryant, Director for National Advocacy and Organizing, aptly notes that the conversation surrounding PrEP hasn't even addressed the stigma of taking HIV medications, which completely alter one's lifestyle, work schedule, and physiology. "This strategy of pouring a potential lifetime of HIV drugs that come with physiological, emotional, and psychological side effects into people and communities who are HIV negative is something I am strenuously against. To me, it's HIV drug profiling from Big Pharma and other singularly driven, profit seeking entities."
And Larry isn't alone. One thing the CDC won't tell you is that over 40 healthcare professionals, AIDS advocates, and people living with AIDS asked the Federal Food and Drug Administration to reconsider their recommendation, citing many of the same concerns discussed here. On the flip side, proponents of PrEP as a preventative are heralding the recommendation as one more tool to help in the fight against HIV/AIDS. But as history has shown, people's voices that come from the frontlines of the AIDS pandemic are repeatedly sidelined in favor of profits and corporatization.