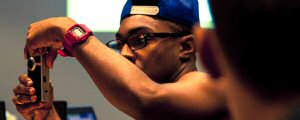 Rickey "Rico" Robinson at the Youth Action Institute. Image courtesy of Larry Bryant's personal Smug Mug page.
This summer more than a dozen young people -- between the ages of 21-29 -- came together for the 2012 Campaign To End AIDS (C2EA) Youth Action Institute (YAI). Youth-organized and youth-led, the YAI seeks to educate and inspire a generation about HIV/AIDS. For one week, these youth bring their insight, creativity, energy, and passion to AIDS activism, breathing fresh air into a battle decades long.
Below are edited excerpts of Rickey "Rico" Robinson's daily journal while at this year's YAI. With his permission, we share it with you today.
Day 1: The opening day -- many of the YAI participants arrived to D.C. from places all around the globe like Texas, Haiti, Detroit, Los Angeles, Atlanta, Ghana, among others. We all met over a quiet dinner, but the quietness didn't last long because we began to introduce ourselves. Some people were students, some worked at health clinics, some at AIDS foundations, but the one thing we had in common was the passion for what we do. After discussing what C2EA and YAI were really about, we were told that we needed to agree to one issue that we want to research, take action on, and advocate for. We started to think!
Day 2: Hello 2nd day! Up bright and early and ready to leave our housing venue by 9! This was the day of presentations where we sat and listened to some great informational pieces. It started with Sarah Audelo from "Advocates for Youth" who gave a nice presentation on youth statistics of people living with HIV, strategies to solve the problem, and why young people are having unsafe sex today. We also began to learn some of the top issues in the city like needle exchange, youth friendly services, and Metro Teen AIDS. We also learned about standing up and taking "direct action" for issues we believe in, like starting petitions, protesting, and writing letters to city officials.
Advertisement
Day 3: The day of field trips! We started off by going further into D.C. to visit Transgender Health Empowerment (T.H.E.), where we sat in a phenomenal presentation held by Debbie and Brian, who currently run the program. They explained to us the issues in the transgender community, why they may become sex workers, get HIV, and how T.H.E. provides the trans community with housing, job training, HIV testing, and more. Debbie did such a great job she became the next Lady Gaga, with us wanting photos and autographs from her.
After the tours we got back to our building where we struggled to choose the issue we would take direct action on. We ultimately decided to target more funding for the transgender community and support from Mayor Gray. Once our topic was chosen, we decided to split into groups of three: media, linguistics, and outreach.
Day 4: Down to business! Linguistics went shopping for materials, and outfits, while media contacted 200 press outlets, created a petition, and conducted outreach to other organizations for support and to help us and get the word out. In the midst of all this work, emotions got in the way, last minute changes were made, disagreements happened, and it became hard for everybody to work as a team. But at the end of the day it all came together because we knew what mattered the most was helping to get the transgender community funds and equal rights.
Day 5: Lets go team! Up and out to City Hall by 11am protesting and making noise. 3 members went inside City Hall, making sure that every council member was aware of the protest outside, getting their stance, and delivering demands while the rest of the group attracted media attention from news channels and government officials. We were loudly and proudly screaming chants like "In the land of the free, I'm not free to be me," "transfer trans-funds," while supporters came out and participated in the march. This march took longer than an hour, and it was a very hot day, but we all felt great about it even while getting tired! The job was done and done well. The feedback was great.
We then went over to an organization called HIPS and got a tour of the facility. We met some transgender women like Paula, who gave a phenomenal presentation about her life-changing story, and it made us all feel appreciative because they shared their struggles and taught us things that we didn't know. This all happened over amazing Jamaican food that left our tummies full! The group exchanged tons of hugs and kisses with the HIPS organization because they said we inspired them to stand up more for their own community.
The ending of our night consisted of celebrating over dinner with Mr. Larry Bryant himself and the team who made it all happen. Many new friendships were established, better understandings were made, lives were affected, and young people became even better advocates! A new family was created and we helped to become another voice for the transgender community for the better!
The full journal entries are available here. Photos of this year's YAI are available here.