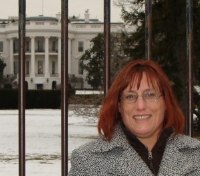 Kat Griffith
It is Thursday July 26th, 2012. I am traveling back home to Peoria, Illinois after over a week in Washington, D.C., for the 2012 International AIDS Conference. I am sad to say that I did not even come CLOSE to doing, seeing, or learning all that I wanted to learn at AIDS 2012. That being said, I am full. Full of love for my fellow warriors, full of energy to battle my local community that continues to ignore the national movement and recognition that including those living with HIV strengthens their programs and gives them insight they would not otherwise have. And I am full of new information with which to drive points home when I am having conversations about HIV/AIDS. I am more armed with facts about the role of violence and trauma and the ways they intersect with HIV, I know more about the role and importance of drug users and sex workers in the conversation, and I know a lot more about condoms (doing a little inside cheer on that one!)!
I am full of hope after the "We Can End AIDS" mobilization march on Washington, that shut down the streets of Washington, and brought several thousand of us to the steps of the White House! There were people fighting for a Robin Hood Tax, people against criminalization, women pushing for an end to the War on Women, and the list goes on. All of the voices raised for ending the HIV epidemic are needed. They are essential in curbing the HIV epidemic.
Let's think about that ... we have the science and knowledge to end HIV (a cure notwithstanding) ... lets assume we get all that we strive to do accomplished, but completely leave sex workers and or drug users out of the prevention dialogue. Where are we? In exactly the same place we were before. That is true of every person that has a voice in this fight.
Advertisement
I want to challenge you to think about something else. I work at the intersection of violence and HIV for women. One study I learned about revealed that 59% of women who had been raped in the study cohort experienced rape previously in her life. What does this tell me? We cannot solve one problem without addressing the underlying issues that brought that problem on. We cannot solve the HIV epidemic unless people are suitably housed. We have to end the war on drugs so that we can suitably and empathetically address drug addiction, or the fact that trans women engage in survival sex work due to discrimination and lack of employment opportunities in the workforce. And none of this will work if we do not address hunger, which can push women to make difficult and dangerous decisions in order to feed her children or pay her rent.
As I said, I am full. I am empowered. I am driven, and I am fierce. I also have NO intention of taking this journey alone. I stepped out of the closet, knowing full well that thousands of us will not or cannot.
For those of you with no voice, I have got your back.