Are There More ... Like Me?
By Rev. Andrena Ingram

August 9, 2012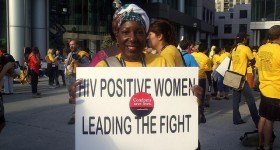 In Toronto Canada in 2006, while attending the International AIDS Conference, where I made my decision to come out as a religious leader living with HIV.
If you've been keeping up with the Olympics, you have heard that Ji Wallace, an Aussie Olympian, revealed his HIV status in a letter to Star Online!
I think this is amazing, and I am so grateful and proud of him for doing that! He said that he was inspired after watching an interview with Greg Louganis, who disclosed in 1995 -- that he was HIV positive and gay ... and that after hearing it, Wallace thought on it ... and thought on it ... and finally decided that he would come out as well.
As in Louganis' case, he has personalized this disease, put a face to it, breaking down the wall of stigma a "face" at a time. Perhaps his action will inspire others! I am sure that he agonized over it, possibly fearing the ramifications his "coming out" might have on his personal life. It was/and is a big step. It was a huge step for him, and a huge step for the HIV community at large.
Each time someone comes out, it breaks down the wall of stigma surrounding HIV. It makes it easier for 'someone' to get tested. There is strength in numbers.
However, not everyone is able to do this. There are those for whom coming out would be a dangerous thing. There are those whose livelihood (job and personal) would be jeopardized in doing so. There are those who are just not there. And that is okay! Coming out and disclosing is NOT for everyone. (You should disclose when entering into a 'relationship' with someone though).
Advertisement
Your decision not to disclose, and put yourself out there on front street is respected.
For me, I saw firsthand what the stigma of having HIV can do to a person. I saw it through my husband, who was so filled with shame and fear, that it literally killed him: the secrecy, not being able to go to the pharmacy and pick up his medication, his being silent (with the exception of me). All of that stress, and fear of rejection. "Stigma" killed him. And so, when I received my diagnosis, I did quite the opposite.
I began talking about it and sharing it with family and my church family when I was diagnosed. But it was after attending the 2006 International AIDS Conference in Toronto Canada, where I was amazed at the number of people attending, that had HIV. I was in seminary at the time, and just beginning my journey into ordained ministry. I was inspired by the Reverends Gideon Byamugisha and Patricia Sawo, who are religious leaders, and spoke openly about having HIV. A 'clarion call' from our Presiding Bishop Mark Hanson had also gone out, during the Interfaith Conference held three days before: a call for religious leaders to get tested and reveal their status. Hanson asked religious leaders to take HIV tests and publicly disclose their results. "[This] will give courage to other religious leaders and also their communities to then follow, which begins to break the silence and the stigma too often associated in religious communities with HIV and AIDS," he said.
I began to think ... and think. Could I do that?
During the conference, I had the honor of having dinner with my dear brother and friend Gideon at the conference, who spoke to me about his own journey of disclosing. He made imaginary circles on the table, while explaining to me about the process of coming out: family > friends > church > community > and so forth. The circle getting wider each time. That was how 'he' did it. And it was a process that took time. It is a process that takes time.
And so, I began my process ... has it been easy? No. I may make it 'look' easy. But each step is a calculated, prayerful one ... with support. That is very important, having support.
I believe, that the faith community bears a great responsibility for doing their part in combating this disease. What a powerful witness it is to have religious leaders who believe in the resurrection power of Christ, and are openly living with HIV. That presence has the possibility of reaching out to folks who are looking for a "safe" place to be, and receive support. Not to say that there are not "safe" congregations out there, being led by (negative) religious leaders. I am saying I have heard horror stories of many who have felt stigmatized by the church.
So ... I am thankful for Wallace for coming out. I am thankful for everyone who discloses, and more specifically those who do so, if for no other reason than to "face" it, and tear the wall of stigma down, one face at a time.
For those of you who are not able to come out, for whatever reason, know that we are out here with you and FOR you.
Religious leaders living openly with HIV ... bless you for your public witness.
And yet, I'd to know: are there more ... like me? Gets a little lonely out here sometimes. <3
Shalom!
Get email notifications every time this blog is updated.
---
| | |
| --- | --- |
| No comments have been made. | |
Add Your Comment:
(Please note: Your name and comment will be public, and may even show up in
Internet search results. Be careful when providing personal information! Before
adding your comment, please
read TheBody.com's Comment Policy
.)