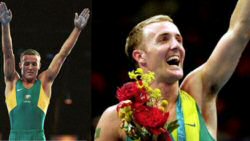 Image courtesy of www.samesame.com.au.
In an attempt to meet you all where you're at -- namely, obsessed with the Olympics, I have an addendum to a previous story I posted.
Last week in "Competitors and Condoms," I noted that as far as I knew, no Olympian had come out as HIV-positive. Well, that all changed overnight as we all awoke to the news that Ji Wallace, Australian Olympian trampolinist, came out as HIV-positive in a letter to the Star Observer, an Australian daily newspaper.
Wallace, who won the silver medal in the 2000 Summer Olympics in Sydney, said he was inspired to reveal his positive status after watching this interview with CNN's Piers Morgan and Greg Louganis, who famously came out as gay and HIV-positive in the mid-90s. And here's a tiny bit of corporate gossip for you: after he came out as positive, all of Louganis's sponsors dropped him except for Speedo.
As far as I can tell, Wallace's statement has been met with nothing but positive responses and shouts of adoration and support, though Wallace's own Twitter feed has not been updated since May 2011.
Wallace's decision to publicly reveal his HIV-status serves as a starting point for other athletes, professional or not, gay or otherwise, to take a stand against homophobia and fight against HIV stigma and discrimination. We stand with you, Ji Wallace.
Comment by: Phil
(Glasgow, Scotland.) Fri., Aug. 17, 2012 at 11:47 am UTC
Well done, Ji!
Now, who's going to be the next brave soul to step up and be number two athlete to come out as HIV+ ?
Remember, with each additional member you're building a powerful and supportive club.
It gets easier, guys!
(Please note: Your name and comment will be public, and may even show up in
Internet search results. Be careful when providing personal information! Before
adding your comment, please
read TheBody.com's Comment Policy
.)