My HIV Journey: 13 Months of Videos Following My Diagnosis
August 2012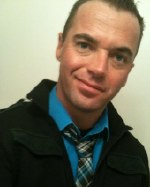 Aaron Laxton
I am simply a guy who on June 6, 2011, received the news that more than 33 million people have received: I am HIV positive. I decided in that moment to record the journey that I was embarking on so that I might help others as they receive that news. I'm not a doctor and I don't endorse any agenda other than simply living a healthy life.
Table of Contents
Related Stories
---

This article was provided by TheBody.com.
---
Comment by: binta
(nigria) Fri., Nov. 29, 2013 at 1:25 pm EST
God is in control
Comment by: marlon
(Manila) Fri., Apr. 5, 2013 at 3:43 pm EDT
what is the time from your esxual exposure to the fist signs of HIV?
Comment by: Ed
(Malaysia) Tue., Dec. 18, 2012 at 9:37 pm EST
i was diagnosed with HIV almost same time with you and lucky i found good friend who really stand on my side to help me. I'm on HAART since November 2011 and love to help new HIV diagnosed to step forward and i really understand how you feel. Sorry my poor English but i really like your link and hope will help many people. Thanks
Comment by: Anonymous
Fri., Nov. 23, 2012 at 3:24 am EST
Thanks Aron I too tested positve a month ago and i have not disclosed to anyone I got ecouranged by your way of life i will be in touch
Comment by: kevin
(Durham, NC) Wed., Sep. 26, 2012 at 12:35 pm EDT
Hey there just watched your viedo. Your an inspriration to many i can already see that. I suffer from Bipolar 1 w/ Physcosis Panic disorder,Anxiety Disorder, PTSD. I am also a gay male HIV NEG as of yesterday. I noted that you abused your Rx drugs I had a problem with a drug called Ativan which is an benzotrpine In Aug, I stopped abusing them due to the withdraw i would get. It also makes you forget spaces and time I did engage in sexual activity aug 23rd but could not preform sexualy maybe that was my wake up call but i have a huge phobia of Hiv i have been tested at least 12 times since May of last year even when i havent ingaged in BB or other risky behavior. I am however extreamly isolated i have been since January due to my conditions the Drs just jam my mouth full of meds and send me home note im on Disablilty and medicare so im just a number. So what i have started doing is advocating For the prevention and testing for hiv thru Thebody.com and Adam4adam.com hoping to make a diffrenece, Its also people like you that make a diffrence in every thing you say i must say i did cry when you spoke how you ended up at this point because you were describing me (Less the sexual behavior) I would like to know if there is anything that i can help you with? I have been in treatment since 16 and hell im getting old im 35 now. Alcohol was my main medication sober since 4-12 and loving it. I have no car so i dont hook up or go to bars ex.. I just stay home ponder and worry about everything hince the panic attack and axiety im affraid to check the damn mail its that bad, Its life changing and i dont like it i have 2 friends i may see maybe 1 a mth. I just dont need the stress or it could trigger a attack with the phycosis and bipolar. Well i will end saying i wanna keep in touch with you i really do because something you said clicked in me and i would hate that to go to waste. TTYL! PRIDE!
Comment by: Methe
(Cologne, Germany) Sun., Sep. 23, 2012 at 5:10 pm EDT
I remember that time (June 2011) too well, but funnily, for just the opposite: I had been convincing myself for over two years that I was pos (after experiencing what I regarded as the f+++-flu). Two years I did not take a test out of fear of prosecution. Finally pains and constant colds became too much to bear. Late in May I went to the doctor to get tested. On June 3rd, I came to pick up my test. No answer on the phone, a regular visit (that doctor also being my GP). I was the last one in the waiting room. Because the doctor wanted to have a long talk to me on how HIV is treatable and stuff. I went this scenario through a thousand times in all those years. And yet, my heart pounded at the thought of being just minutes shy of being "officially" told my poz result. Then I went to his room, and the doctor started recounting the situation, and i impatiently cut him short and told him to just tell me that I was poz. He said the test were negative....Cant describe what happened inside me then, no outburst of joy, more like inner relief, bewilderment.. Im neg now for over a year, but besides that, nothing is good for me. Not my health, not my career, and I dont have a sex life out of fear of getting diseases. Sometimes I wonder, if i would be happier today if those resulsts back had come back poz.....
PS: (I am neg for sure, had multiple tests after that, both antibody and PCR, so no Chance there of false-negative)
Comment by: Ken Warnock
(Royal Oak, MI) Fri., Aug. 31, 2012 at 12:02 am EDT
Aaron,
You are an inspiration and a brave and courageous person!! Keep up your great work!! Hope to see you again soon!!
Peace,
Ken :)
Comment by: Rick
(Providence) Wed., Aug. 29, 2012 at 4:35 pm EDT
Do you think a lot of guys are getting HIV through oral sex?
Replies to this comment:
Comment by: Steve
(Milwaukee) Tue., Oct. 16, 2012 at 4:00 pm EDT
the risk for getting HIV via oral sex is zero.
Comment by: Andy
Wed., Dec. 26, 2012 at 1:21 am EST
The risk for oral sex is only "almost zero" when neg guys are looking for reassurance about their behavior or poz guys are trying to rule out how they became infected. When someone actually catches HIV from oral sex they "were never promised it was risk free" and when the subject of disclosure and oral comes up we're always reminded how it's "still a risk". Clearly, there are some serious questions about what the actual risk is. The only thing we know is that the way we treat it indicates a clear double standard in thought and behavior.
Comment by: Anonymous
Mon., Aug. 27, 2012 at 4:50 pm EDT
I am so proud of you, and recently diagnosed. I hope to become as strong as you. You're truly an inspiration.
Add Your Comment:
(Please note: Your name and comment will be public, and may even show up in
Internet search results. Be careful when providing personal information! Before
adding your comment, please
read TheBody.com's Comment Policy
.)