Table of Contents
July 27, 2012: Former President Clinton Calls on World to Scale Up Biomedical Interventions to End Epidemic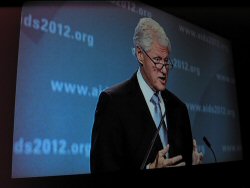 Former President William Clinton at the Conference Closing Ceremony.
Former President William Clinton headlined the Conference's Closing Ceremony, calling on the world to scale up new biomedical interventions to save the lives of people already living with HIV and end new infections.
Acknowledging that scaling the interventions up in whole populations will come with a stiff learning curve, the former President said we can't and don't need to wait until we have learned what are the best practices for each intervention. We can learn as we go, he said. The time to implement treatment-as-prevention, PrEP for high-risk groups, voluntary male circumcision, and legal clean syringe exchanges, he said, is now. He called on governments that stigmatize same-sex sexuality and injection drug use to reverse sex and drug laws and end offical and unoffical harassment so the new interventions can reach the populations that need them most.
Clinton also acknowledged that scaling the interventions up will be costly, but the expense will lead to lower worldwide health care costs in the future. He praised low and middle-income countries for stepping up their HIV/AIDS spending so that it now exceeds the contributions of donor countries. He said that commitment to full implementation of the new interventions would be met by major new funding from governments and foundations.
July 26, 2012: Thursday, the Fourth Day
Thursday was the day of "key populations" -- men who have sex with men (MSM), sex workers, and transgender people: the excluded, marginalized groups that have borne the heaviest burden of HIV and AIDS.
Uganda's Paul Semugoma led off the morning Plenary, telling the Conference that we can end HIV and AIDS, but not until we have real equality for MSM. "These [new prevention technologies] are interesting," he said, "but how are we going to apply them, especially to these harassed communities?" Infection rates are high, especially in Africa and the African diaspora. Prevention and treatment resources should be targeted to where the epidemic is most concentrated, but governmental homophobia leads to underallocation of resources, reinforced by by anti-homosexuality laws and HIV criminalization laws that ensure the MSM epidemic will stay underground where it spreads most easily. MSM's own internalized homophobia drives up infection rates, Semugoma said, so he closed by celebrating his own identity as a gay man and calling out to his partner in the audience, "Brian, I love you!"
Australian sex work researcher Cheryl Overs said, Protect sex workers from laws meant to "protect" them! Laws and public policy meant to regulate sex work make it impossible for sex workers to find places to work safely. Carrying condoms can expose them to prosecution. If they seek testing and treatment, they may be forced to disclose their partners. When they are "rescued" from sex work, they risk being sent to "rehabilitation" that is imprisonment in all but name. So long as sex work is criminalized and sex workers are driven underground, Overs told us, new prevention technologies like PrEP may actually decrease sex workers' safety, making it easier for clients to insist on sex without condoms. Sex workers need to be on the boards of ASOs -- they know realities the rest of us can't imagine. And PEPFAR's anti-prostitution pledge needs to be overturned.
Advertisement
District of Columbia transwoman Debbie McMillan told us about what it's like for transgender people, especially those who transition from male to female. They face a perfect storm of stigmas, homophobia when they are looked at as men, disempowerment of women when they are looked at as women, exclusion from employment and simple acceptance except on the street, extremely vulnerable to drugs to dull the pain when they hit the street and start working. Every assault on self-respect that can happen to MSM, sex workers, and disempowered women happens to them. The result is a lack of care resources and diminished ability to seek what care is available. But those who survive bring unique experience to the table and need to be part of mainstream HIV leadership. "For 20 years," Debbie said, "I lived a life that guaranteed I would become HIV-positive. I was not irrelevant then, and I am not irrelevant now!"
The message for all three "key populations" was the same: real equality and respect for these groups are not just human rights, they are indispensible necessities of public health. We can end the epidemic -- but not while "key populations" are underground.
The WHO's Gottfied Hirnschall closed the morning Plenary by laying out the practicalities of extending treatment to "key populations," even in countries where they are able to seek care. New WHO guidelines call for all poeple living with HIV to start ART treatment when their T cell counts go below 350/mL. By 2015, the target year for achieving worldwide treatment at or below 350/mL, that will mean providing AIDS drugs to 15 million people. If Treatment-as-Prevention populations -- the HIV-positive members of serodiscordant couples and all members of our "key populations," regardless of T cell counts -- are added to the target, 23 million will need to be served by 2015. That's expensive, Hirnschall said, but cost-effective, because getting ahead of the epidemic, bringing more people into treatment every year than are newly infected, will bring treatment costs down.
A cure, alas, will not be enought to end the epidemic, if the number of new infections is greater than the number of cures. Nevertheless, a late-afternoon session evaluated progress towards a cure and reported that either a functional cure or eradication cure may be in sight. Outside the Conference, researchers at the University of North Carolina reported the lymphoma drug voronistat shows efficacy in "flushing" dormant HIV into its active stage, where the HIV drugs we already have can destroy it.
July 25, 2012: Wednesday, the Third Day
Wednesday was the day of women -- and the day of facing the real complexities of making our new HIV control tools work.
The morning Plenary focused on "Turning the Tide on Transmission." How close are we to realizing the promise of a generation in which no one's HIV progresses to AIDS and new HIV infections are rare?
Distinguished virologist Barton Haynes, director of the Duke Human Vaccine Institute and Center for HIV/AIDS Vaccine Immunology (CHAVI)discussed prospects for an effective vaccine. The good news: we understand more than ever before about HIV's vulnerabilities, especially the location and structure of sugar and protein shell structures that do not usually mutate, and the shape of possible antibodies that would bind and destroy them. The bad news: the antibodies tend to fall into classes that the immune system itself deletes in order to prevent self-damage. The good news: as the deletion mechanisms become better understood, we should be able to find candidate antibodies that are broadly effective against most strains of HIV and that the immune system will tolerate. The vaccine field is energized, but effective vaccines are still years away.
Advertisement
Do we have other tools to protect women and girls, who now make up half the epidemic worldwide despite the concentration of MSM, and to protect their children?
Chewe Luo, HIV/AIDS Advisor for UNICEF, called for wider "test-and-treat" among women, especially pregnant women, and innovative strategies to have the most effect in heavily impacted populations in sub-Saharan Africa and other HIV conctration zones. Mother-to-child transmission can be eliminated, she said, but health care delivery systems will have to make it possible for HIV+ pregant women to stay in treatment through and long after delivery. In the long run, this means that preserving the health of the mother is just as important as preventing transmission to the child.
Linda Scruggs, a Baltimore and D.C. area activist whom we at NAPWA have the honor to call a friend, spoke about the importance of sexual power relationships and gender-based violence in making women vulnerable to HIV. Not only do women need unhindered access to testing, care, and treatment, but they need equality and respect in relationships and an equal place at the HIV policy table. Geeta Rao Gupta, Deputy Executive Director of UNICEF, echoed Scruggs, saying high rates of infection among women, especially adolescents, reflect pervasive and stubborn cultural norms in many countries that disenfranchise women and then blame them for the resulting higher rates of infection.
An afternoon Regional Session examined progress in scaling up prevention and research actities in Washington, D.C., where the epidemic is heavily black and -- as in many poor countries -- disproportionately female. The CDC's Carl Dieffenbach talked about the the CDC's 2007 decision to reboot its partnership with the District of Columbia, and the complext network of relationships that the CDC and NIH, the District, a consortium of universities, teaching hospitals, and communty-based health care facilities. The research is as important as the treatment: before 2007, the District did not have surveillance infrastructure to understand where and how the epidemic is concentrated. With better surveillance, interventions can be designed and targeted more effectively -- in some case, reaching out to previous unidentified key populations, in others, deciding which biomedical intervention might be most effective with that population. Dr. Mohammad Akhter of the District's Department of Health spoke about the intracacy of the network of relationships, the effort of all parties to coordinate the research and treatment consortium's work, and the absolute necessity of welcoming community activists to the polciy table. No matter how uncomfortable they can be, Akhter said, they are experts, just as much as the MDs, MPHs, and PhDs form the universities and health care providers. There are four pillers to the District's response to the epidemic, he said: robust research into the what, when, where, and how of transmission, prevention and treatment; treatment of the whole HIV+ person, not just for his of her HIV; the best scientific, clinical, and administrative staff; and continuing pressure from activists to for effective action.
An evening session on the role of stigma in spreading HIV brought us back to women -- and to the importance of details. Public and institutional stigma interact with race, gender, and other (e.g., disability) discrimination to produce internalized stigma that in turn produces poor utilization of treatment and poor health outcomes. The mechanisms are recognizable across many cultures, but the details are different in every case -- and so, necessarily, are effective responses. The panelists reported from several studies that education about HIV and its non-viral causes is important for reducing stigma, but simply ensuring the people know they know people with HIV is even more effective. We were reminded of Elton John's call, the day before, for everyone living with HIV to "come out" about it.
July 24, 2012: Tuesday, the Second Day
Three major themes today (apart from a heat index closing in on 100).
The morning Plenary session was about science -- and it didn't make headlines. There's real hope that a vaccine and an eradication or functional cure may be on the way. But neither will be effective to end the epidemic if we don't make good use of the tools we already have.
The working sessions focused on the hard work needed to make them work -- and fighting stigma leads the lists. A morning session on the impact of HIV on transgendered people looked at the disproportionate number of transwomen who become infected, linked it to the high proportion of them who exchange sex for the necessities of life (let's stop calling it sex work and call it what it is: sex for survival), and linked that to more conventional employers sacking them or refusing to hire in the first place. An afternoon session focused on HIV and the law: the role of legal and cultural disenfranchisement of women in Arab countries in making women vulnerable to HIV, and the role of HIV-specific criminal laws in the West in reinforcing stigma and discouraging tresting, disclosure, and treatment.
The Global Village hit its full stride. It opened Monday, but the crowds came Tuesday. The Village is open to the general public, not just Conference delegates and People with Press Passes (PWPP), and it's well named: very global, and very much a village.
It's a village with a wonderful carnival atmosphere -- where else would you ever find a tasting bar for water-based lubricants? Native Americans from the Lower-48 and Alaska drummed up a storm to decolonize HIV, and their very cute one-year-old found hours of innocent amusement exploring the properties of a banana peel.
NAPWA is sharing a Global Networking Zone space in the Village with the Europe-based global HIV-positive group GNP+ and France's Aides (nice Anglo-French pun in their name, if you're bilingual, but your editor spent the day rediscovering how difficult it is to carry on a conversation in English while there's an interesting presentation going on in French in the background). We hobnobbed with AIDS Committee Toronto and Germany's Deutsche AIDS-Hilfe and admired T-shirts saying, "Put the sex and drugs back in prevention."
| | |
| --- | --- |
| A demonstration heads out. | And another ... |
| CDC's Rashad Burgess and visitor at NAPWA's Global Village Booth. | NAPWA's SABER program manager Mimi Miner talks with Congresswoman Barbara Lee. |
| Mimi promoting SABER at NAPWA's booth. | NAPWA VP for Development Les Talley with Congresswoman Lee. |
| NAPWA's Steve Bailous, ViiV's Bill Collier, and NAPWA Frank Oldham, Jr. | NAPWA's Bayard Rustin Project display at the booth. |
| CONDOMIZE!'s Lubricant Tasting Bar -- really. | Positive Voice editor in chief Peter Kronenberg. |
| Positive Voice deputy editor Paul DeMiglio. | The Global Village's littlest delegate. |
July 23, 2012: Monday, the First Full Day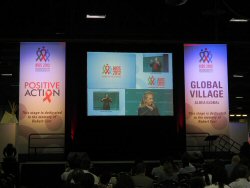 Secretary of State Clinton, live on the Global Village's main stage big screen.
One thing was clear when the first official sessions opened at 7:00: the famous Washington, D.C. summer heat was back. Our guests from around the world would fully experience the, er, pleasures of our nation's capital in July.
The morning Plenary continued the previous night's theme: we have the tools, now how do we use them?
Anthony Fauci, director of the National Institute of Allergy and Infectious Diseases, could not have been clearer in saying, We have the tools to end the epidemic. Treatment as Prevention. PrEP. Voluntary male circumcision. "There is no excuse scientifically," Fauci said, "to say we cannot do it."
Phill Wilson, President of the Black AIDS Institute, spoke about the practical obstacles of getting the job done in the United States. All Americans need equal access to health care, he said; we need to implement the Affordable Care act, fully, as originally passed. We need to confront HIV stigma, which actually produces more new HIV infections; everyone living with HIV, Wilson said, should come out of the closet about their status, and we need to come together to demand treatment and respect. Biomedical and behavioral interventions need to be tailored to work hand in hand. And AIDS organizations -- like his Black AIDS Institute and our NAPWA -- need to retool to support an increasingly biomedical response to the epidemic.
Secretary of State Hillary Clinton expressed the Obama Administration's commitment to achieving an AIDS-free generation, with specifics to back up the brave words: $150 million in new HIV funding, to end mother-to-child transmission abroad and targeting interventions and resources in this countries to the communities where HIV is already most widespread and entrenched. The new domestic policy emphasis is very welcome. We at NAPWA have said before and will say again, HIV spreads fastest where it has already spread farthest. Dollars and attention need to go where the epidemic is concentrated.
In an afternoon special session, performer and philanthropist Elton John returned to the role HIV stigma plays in producing new people with HIV to be demonized.
July 22, 2012: The Conference Opens
Satellite sessions began at 9:00 in the Washington Convention Center, just as NAPWA and the NAMES Project began the Quilt opening ceremony a mile away on the Mall. By late afternoon, long lines were forming for the Opening Plenary Session. Doors opened at 5:30 for the eagerly anticipated 7:00 ceremony -- eagerly, because Conference delegates hoped to hear what no Conference delegates had ever heard: "We've reached a point where the the goal of an AIDS-free word -- once a far-off dream -- is now within sight." Those were the words of HHS Secretary Kathleen Sebelius, closing the Plenary.
All the speakers agreed: we have the medical and scientific tools to end the epidemic. The challenge, now, is to change the world so the tools can work. Why, Ana Sango of Zimbabwe asked, are women still excluded? Marginalizing women puts them at risk. UNAIDS head Michel Sidibé and UN Secretary General Ban Ki-moon spoke about the need to deal with structural obstacles to controlling the epidemic: poverty, violence against women, homophobia, inadequate housing, and the isolation of people living with HIV. Congresswoman Barbara Lee continued the thoughts she had shared with us at the morning's Quilt ceremony, spoke about America's epidemic, disproportionately impacting Americans of color, and the resources and hard-headed targeting of interventions and resources to turn the tide.
We began to realize something remarkable: the nineteenth International AIDS Conference would be the first where advances HIV science would not take center stage. We still need a vaccine and a cure, but we have the tools to end the spread of HIV. This nineteenth IAC would be about the challenges of picking them up and using them.