July 23, 2012: Monday, the First Full Day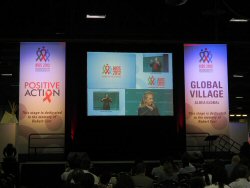 Secretary of State Clinton, live on the Global Village's main stage big screen.
One thing was clear when the first official sessions opened at 7:00: the famous Washington, D.C. summer heat was back. Our guests from around the world would fully experience the, er, pleasures of our nation's capital in July.
The morning Plenary continued the previous night's theme: we have the tools, now how do we use them?
Anthony Fauci, director of the National Institute of Allergy and Infectious Diseases, could not have been clearer in saying, We have the tools to end the epidemic. Treatment as Prevention. PrEP. Voluntary male circumcision. "There is no excuse scientifically," Fauci said, "to say we cannot do it."
Phill Wilson, President of the Black AIDS Institute, spoke about the practical obstacles of getting the job done in the United States. All Americans need equal access to health care, he said; we need to implement the Affordable Care act, fully, as originally passed. We need to confront HIV stigma, which actually produces more new HIV infections; everyone living with HIV, Wilson said, should come out of the closet about their status, and we need to come together to demand treatment and respect. Biomedical and behavioral interventions need to be tailored to work hand in hand. And AIDS organizations -- like his Black AIDS Institute and our NAPWA -- need to retool to support an increasingly biomedical response to the epidemic.
Secretary of State Hillary Clinton expressed the Obama Administration's commitment to achieving an AIDS-free generation, with specifics to back up the brave words: $150 million in new HIV funding, to end mother-to-child transmission abroad and targeting interventions and resources in this countries to the communities where HIV is already most widespread and entrenched. The new domestic policy emphasis is very welcome. We at NAPWA have said before and will say again, HIV spreads fastest where it has already spread farthest. Dollars and attention need to go where the epidemic is concentrated.
In an afternoon special session, performer and philanthropist Elton John returned to the role HIV stigma plays in producing new people with HIV to be demonized.