Table of Contents
July 27, 2012: Former President Clinton Calls on World to Scale Up Biomedical Interventions to End Epidemic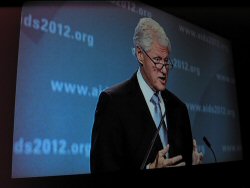 Former President William Clinton at the Conference Closing Ceremony.
Former President William Clinton headlined the Conference's Closing Ceremony, calling on the world to scale up new biomedical interventions to save the lives of people already living with HIV and end new infections.
Acknowledging that scaling the interventions up in whole populations will come with a stiff learning curve, the former President said we can't and don't need to wait until we have learned what are the best practices for each intervention. We can learn as we go, he said. The time to implement treatment-as-prevention, PrEP for high-risk groups, voluntary male circumcision, and legal clean syringe exchanges, he said, is now. He called on governments that stigmatize same-sex sexuality and injection drug use to reverse sex and drug laws and end offical and unoffical harassment so the new interventions can reach the populations that need them most.
Clinton also acknowledged that scaling the interventions up will be costly, but the expense will lead to lower worldwide health care costs in the future. He praised low and middle-income countries for stepping up their HIV/AIDS spending so that it now exceeds the contributions of donor countries. He said that commitment to full implementation of the new interventions would be met by major new funding from governments and foundations.
(Please note: Your name and comment will be public, and may even show up in
Internet search results. Be careful when providing personal information! Before
adding your comment, please
read TheBody.com's Comment Policy
.)