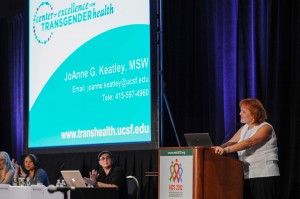 Joanne Keatley speaks at AIDS 2012 (photo: Ryan Rayburn).
Up to 68% of transgender women in North America are living with HIV -- a staggering number presented Tuesday at AIDS 2012 by Joanne Keatley, director of the Center for Excellence for Transgender Health at the University of California, San Francisco. HIV prevalence for other regions is similarly shocking: 27.6% to 37.1% for transgender women in South America, 11.5% to 57% in Europe, and 2% to 45.2% in South Asia, Keatley shared. Wide ranges in HIV prevalence estimates testify to the patchy data available on this highly stigmatized and marginalized population. (See a description and summary of this bridging session here.)
"Transgender" is a term for someone whose gender identity -- self-expression as female, male, or something in between -- doesn't match their culture's expectations. Trans people highlight the distinction between biological "sex," which is all about the reproductive bits you're born with, and "gender," referring to the range of ways to express femininity and/or masculinity. (For an in-depth exploration of transgender health, HIV risk, and HIV treatment, check out "Transgender Health and HIV" in the BETA archive.)
Another painful and telling statistic offered by Keatley: According to data from the San Francisco Department of Public Health, transgender people represented at least 2% of all new AIDS cases between 2004 and 2008, but accounted for 7% of deaths due to AIDS in 2008.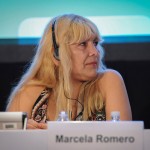 Trans activist Marcela Romero (photo: Ryan Rayburn).
These high rates of HIV infection and severe health disparities, Keatley explained, are driven by such psychosocial factors as transphobia, family rejection, low self-esteem, gender validation through sex, and rampant (and often legal) discrimination in schools, health care systems, housing, and employment. Marcela Romero, co-ordinator of REDLACTRANS, a Latin American and Caribbean transgender network, neatly summed up the results of these combined social forces: "I am not a 'high-risk' person; I am a member of a community that is put at high risk."
Indeed, Keatley observed, simply being transgender is legal grounds for being denied employment in most U.S. states. Without stable employment, many transgender people turn to sex work for survival, putting themselves at increased risk for HIV infection. "The best intervention you can provide for transgenders regarding HIV is to employ them," urged Keatley.
Advertisement
Other transgender health and rights advocates on the panel joined in calling for an end to discriminatory policies around the world that land trans people in jails and prisons and prevent them from accessing HIV testing, prevention, and treatment (and even basic medical care). Cecelia Chung, a health commissioner for San Francisco, emphasized that transgender rights are human rights, and shared stories of HIV-positive trans women sexually assaulted and left to sicken and die in detention centers. Manisha Dhakal of the Blue Diamond Society in Nepal demanded targeted funding for trans-specific HIV programs around the world and input into how the money is used. "We are not consulted for allocation, planning, and designing programs," she said.
Mauro Cabral, co-director of Global Action for Trans* Equality, acknowledged the efforts of his fellow transgender advocates and called for renewed dedication to securing human rights for trans people: "I know we are changing the world together."
Transgender Health and Legal Resources