| | |
| --- | --- |
| NAPWA Board Chair Tyler TerMeer (center) with (from left) OraSure's Doug Michel, Bishop Allen, former DC Mayor Sharon Pratt Kelly, and NAPWA President Frank Oldham, Jr. | Bishop Allen, Congresswoman Lee, and NAPWA's Frank Oldham, Jr. waiting to start. |
| District of Columbia Mayor Vincent Gray receiving Positive Leadership Award -- NAPWA's Frank Oldham (left) and Executive Vice President Stephen Bailous (right). | Mayor Gray speaking. |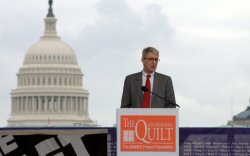 ViiV's North America head Bill Collier.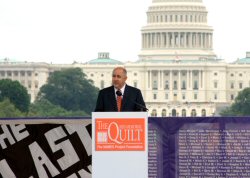 OraSure Technologies President Doug Michel.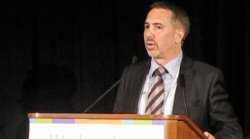 HealthHIV's Brian Hujdich, later at Mayor Gray's Conference Host Committee Reception (photo courtesy of HealthHIV).
We were honored to share a stage on the National Mall with The Names Project Foundation, co-hosting the Opening Ceremony for the AIDS Memorial Quilt.
It was still cool -- a welcome surprise in D.C. at this time of year -- and the Quilt couldn't be rolled out for display until the grass dried. But at 9:00 sharp, Bishop Oliver Allen spoke an invocation, and then NAMES Project President Julie Rhoad and NAPWA President Frank Oldham, Jr. welcomed guests and a small horde of young adults waiting to roll the Quilt out on the Mall.
The Quilt, Frank told us, is the most sacred symbol of this country's three decade struggle to respond to the new disease that had been with us longer but first became news in 1981.
The Quilt reminds us of where we have been, where we are, and where we need to go.
Where we've been: former D.C. Mayor Sharon Pratt Kelly spoke about the challenges of dealing with the epidemic in the District in the early years.
Where we are: current Mayor Vince Gray spoke about the District's cutting-edge response today to one of this country's most concentrated HIV epidemic: aggressive HIV awareness and testing programs, immediate linkage to treatment for all who test positive, and, possibly most important of all, nearly universal health insurance coverage for District residents. NAPWA gave the Mayor a Positive Leadership Award, NAPWA's highest honor, for what his administration has accomplished. We gave another to Whitman-Walker Health, originally one of the country's pioneer HIV clinics, and today a national leader in providing comprehensive health care to lower-income, uninsured populations with high HIV incidence.
Where we need to go: Congresswoman Barbara Lee spoke about the real possibility of ending the epidemic, and the courage, commitment, and determination that will take. Days before the Conference, she introduced a policy and funding bill, H.R. 6138. The Ending the HIV/AIDS Epidemic Act of 2012, she told us, increases and targets federal resources to maximize impact of HIV efforts, expands efforts to end stigma and discrimination, repeals and reforms laws that violate human rights and undermine the positive impact of resources, and maximizes federal coordinating efforts to drive greater efficiency and improved results in all HIV and related programs.
Our thanks to the many other distinuished leaders who spoke. Doctors Mohammad Akhter and Gregory Pappas of the D.C. Department of Health. Jonathon Mermin and Rashad Burgess of the CDC. OraSure President and member of the President's Advisory Council on HIV and AIDS (PACHA) Doug Michel and Bill Collier, head of ViiV's North American operations. Brian Hujdich, Executive Director of HealthHIV, and Whitman-Walker's David Chelfand. PhRMA President John Castellani by video link.
Then NAPWA Board Chair Tyler TerMeer introduced NAPWA's Margot Kirkland-Isaac and Mimi Minier to begin the powerful but painful business of reading the names memorialized on the Quilt -- 680,000 Americans no longer with us, every one of them someone's son or daughter, or parent, or lover, or friend.