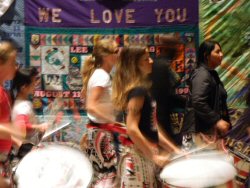 The drummers of Batalá drum the service to its end.
We face HIV and AIDS in our doctors' offices as a disease. We face it in the health care system as a complex intersection of problems in public funding, ensuring equal access to health care, providing compassionate integrated care, and changing attitudes that keep people who need care from accessing it.
We don't think about it as often as a religious issue.
Saturday, July 22, on the eve of the Conference, members of the worldwide HIV community filled Washington, D.C.'s National Cathedral to pray for the day when we can count "The Last One." Activists have sewn a special panel for the AIDS Quilt, saying just that -- "The Last One" -- in white on black.
Now that we know we can end the epidemic, it becomes a religious duty for people of faith to do everything they can to make the dream come true. And it becomes their duty to recognize and acknowledge their own participation in stigma, failure to care, and other behaviors that have mede us less than our brothers' and sisters' keepers.
The service opened almost in silence, with a native American flute quietly echoing the length of the Cathdral's nave, and then sung and spoken calls to prayer from Christian, Muslim, Jewish, and Hindu traditions. The center space of a cathedral is called a nave, we were told, because it resembles a ship (Latin navus) -- and tonight the ship was filled with people who knew they were in it together.
It ended in hope and a happy uproar, with a gospel choir leading the people in Happy Day and the South African freedom song, Siyahamba. Some very serious looking people slowly realized, Oh, I should clap in time, and then, Oh, I should stand up and clap in time. The Balm in Gilead's Pernessa Seele, recessing with other speakers and clergy, made her way down the National Cathedral's long center aisle in a dignified but world-class synchopated shimmy.
And then we went out into the cool, damp quiet of a Washington, D.C. evening, centered for the next day and the days to come.