These three stories of personal survival and growth are reprints from previous issues of Positive Voice, chosen because they illustrate key themes of the International AIDS Conference.
Margot experienced stigma and exclusion from health care simply because she was an HIV-positive woman in 1991. She survived and has grown into one of NAPWA's most effective care advocates.
Miss GiGi tells us how she transitioned from male to female, what it was like to be an in-between early teenager looking for love on the street, and how easy it was to slide into sex work before she pulled her life together and, like Margot, became an advocate.
Our third story teller chose to remain anonymous. She was victimized by HIV-specific criminal laws and a justice system that believes white people's testimony over black people's, and men's over women's.
Margot's Story -- Diagnosed During Pregnancy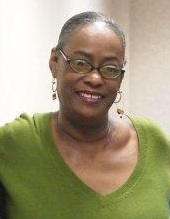 Patient care advocate Margot.
It's two decades since Margot was diagnosed. When she was, she lost a lot of important support -- her doctor wouldn't talk to her anymore, and her nurses wanted her to abort the child she was carrying. Much has changed in twenty years. When she tested positive and her daughter was born positive, both the health care infrastructure and available HIV medications were inadequate. Twenty years later, Washington, D.C. is showing the world how to provide effective health care in an entrenched, concentrated HIV epidemic -- and Margot, a survivor, has grown into a care advocate in NAPWA's Consumer Advocacy Project (CAP), helping newly diagnosed D.C.-area residents navigate a system as bewildering today in the multitude of its options as it was twenty years ago in its lack of them. But stigma is still with us. People are still literally dying of shame, going untested rather than face the truth when they know something's wrong. And only today is a movement growing to talk realistically about HIV, sex, and stigma in black American faith communities.
Positive Voice: Margot, how would you like to tell us how you first learned you were HIV-positive, and what was going on in your life at that time?
Margot: I learned I was HIV-positive during my fifth month of pregnancy, during a prenatal visit in 1991. At that time, I was coming out of my second marriage. I had three other children. This would be my fourth. Our marriage was on the rocks, I had made the decision to leave the marriage, and I discovered I was HIV-positive.
Advertisement
What was it like, learning to navigate the care system?
Well, in 1991 there wasn't one. I was advised to terminate my pregnancy. Prior to my diagnosis, my doctor thought I was a lovely person. When he gave me my diagnosis, he wouldn't even look at me. He turned his back to me, never touched me, never gave me any information. The next thing I knew, a nurse was coming in to give me information about abortion. That was it.
Did you have the child?
Yes I did. I gave birth to my daughter Hollis in January of 1992. She transcended in March of 1994.
So, at the time, there was no system. What did you have to do to get the services you needed?
I didn't know what to do. I didn't know there were any services. No one was giving me any information. From the reaction I received from the medical community, I learned early on that I could not rely on them. They just cut me off. Like I didn't deserve to have a child, she didn't deserve to live, and I was not someone who deserved respect. In fact my diagnosis was disclosed to my sister during my labor. It was total disrespect and lack of compassion and education.
I didn't know anything about HIV. I thought it didn't have anything to do with me, from the messaging I was seeing on TV -- I was a black lady from New York, I was married, I wasn't a drug user. I was a homemake, so how could this possibly have anything to do with me?
And then not receiving information from the medical community -- your doctor turns his back on you, he's a medical professional, he's supposed to care for you and about you. And now he detests me, will not even look at me. He did not deliver my child. Another doctor did, and in the middle of the delivery he looked down at me and said, "So how long have you been HIV-positive?" In front of my sister. Who didn't know.
So after I had my daughter, I ran to San Jose, California, where I didn't know anyone -- and no one knew me.
Obviously you've learned to navigate the HIV care system -- as there came to be a system. How did you learn?
It was ten years later. It really took me ten years before I reached out to the medical community. I would of course connect Hollis to a pediatrician, but at that time they didn't know how to treat infants. She was given AZT, and, to this day, I'm not sure, was it the disease that killed her or was it the AZT that destroyed her kidneys. I struggle with that every day.
So I didn't seek care for ten years. And I got to the point in my disease that I was down to four T-cells. I was extremely ill before I started my meds. I've always been a working person. And when I sought care -- was forced into care -- it was here in D.C., and I remember going to the doctor and being told by one of the nurses that I should not be in the clinic, because she saw me get out of my nice car, and she saw the way I dressed. She was pretty much accusing me of taking services from people who needed them. But little did she know at the time that I was too sick to work. And always having worked, I had accumulated things over the years, and to be judged by what I wore and drove was very hurtful. I did not know at the time that there was rental assistance, food assistance, ADAP assistance, because no one told me these things. So my family was paying for my medication out of pocket. I lost my housing. I had to sell my car, this beautiful car I had for nineteen years, because no one told me there were programs in place to assist me. I learned from my family that I was going to have to sink or swim on my own, because they were getting complacent and saying, let's just make her transition as easy as possible. Which was kind of hard to take.
When I was in the hospital, I actually heard my sisters tell the physician they had made "arrangements" for me. I was almost in the box. And I don't know what happened over the next day or two, but I decided I was going to live. And I started doing what I was supposed to do. When the nurse came and brought me my medication, I wouldn't reject it. When they brought me food, I would eat it. I made myself get up.
And ironically, two years later I started working in the HIV community. It was a fluke. I didn't know anything about services or agencies. One of my sisters had met an outreach worker -- and this is why it's so important to have community workers and outreach workers, peer buddies and peer navigators. Because she heard this woman speak and went to her for information, and then started going to a support group for positive women, even though my sister is negative. I didn't know my sister was doing this for a year, just getting information.
And after my last surgery, I decided I wanted to go back to work at my old job. They were going to accept me back. But my sister, without my knowledge, had given my resume to a woman named Patricia Knowles at the Women's Collective. My family had sent me on vacation [laughs] to Aruba, I guess they thought this was going to be it, and when I came back there was this message from a woman I had never heard of. She kept calling, and I finally asked my sister, who is this, and she said, you should talk to her.
So I met with her, and it was the first time in eighteen years that someone who knew I was positive actually embraced me. I was in an environment where there were all these positive women, and they were saying I'm HIV-positive like they were saying I'd like a glass of lemonade. They were strong and beautiful and courageous. And I wanted that. I didn't want to go home and hide in my room anymore. I wanted to be part of this thing that was happening in this office. I wound up staying there the entire afternoon, just talking to these positive women, who like me lost loved ones, spouses, children, who like me had been shamed and tossed aside and written off.
So I walked out of there with a job!
So now you were working in the HIV community. How did you come to CAP as an advocate?
To make a long story short, fast forward ten years again. I seem to do things by ten years. I left the Women's Collective to go to another agency, and I was asked to come to AIDSWatch. That was another huge thing for me, because I looked around and said, Oh my God, look at all these people, and they're shouting I'm positive and running up steps on Capitol Hill and making all this noise and sitting in briefings, and I never thought I would be able to participate in something like that. It was very powerful to me.
And at AIDSWatch that day I met Vanessa Johnson and Steve Bailous -- who I had met before, when CAP was just starting and he came to the Women's Collective and I lassoed him into doing some volunteer work for me, and I knew Vanessa from Ms. Foundation. I happened to have a resume with me, and I told them I was looking for a job. Ten months later -- there goes ten again -- I looked on FaceBook, and there was this message, so I went to meet with Ms. Johnson and Mr. Bailous and started working in NAPWA's capacity building programs. Then one day Steve and Frank Oldham called me into Frank's office and said, we want to work as a CAP advocate.
And I said, Yeah! I love working with people. That's my niche, and it take me back to my roots, because way back when I started on my own journey, after the treatment I received from the medical community, I made myself a promise that I would never treat people like, that I would go out of my way to make sure they were OK, no matter what their decisions were about their disease.
And so becoming a CAP advocate allows me to do that. And nothing's better than when you can give someone something that will help sustain them. Sometimes it's something a simple as just giving them a hug.