It was spectacular, historic, and emotional. AIDS 2012 was full of hope for the 34 million people worldwide living with HIV today, and poignant with the memory of the 35 million who have died. Even if you had been to previous Conferences, walking into the Washington Convention Center was astonishing -- like being plunged into the largest carnival on earth. A staggering wealth of information. More sessions than a news team of twenty could possibly have covered. Demonstrations against international enforcement of intellectual property rights that would make it harder to get inexpensive generic drugs to resource-poor countries with heavy HIV burdens. A Global Village for people living with HIV or affected by it -- booths with HIV/AIDS groups from dozens of countries, visitors from dozens of countries more, poetry jams, and a zombie wedding. The Global Village must have been an eye opener to delegates from rich countries. Many poor-country visitors had obvious scars -- we got used to seeing a legless African man in his wheelchair being pushed from place to place by a friend who needed to use the wheelchair as a walker; together they got where they wanted to go. But we also saw moments of joy, like an aboriginal group's eighteen-month-old's hours of delight exploring the properties of a banana peel.
Spectacular, historical, and emotional indeed -- click HERE to visit our day-by-day coverage of the Conference, which barely skims the surface but will give you some sense of how much was going on.
But two messages came loud and clear through the kaleidoscope.
Advertisement
First, we have the biomedical tools today to end the HIV epidemic in our generation. President Obama, in his
videocast welcome to the delegates
, and speaker after speaker on Conference podiums expressed hope. In the epidemic's three decades, we have identified the cause of the new disease that emerged in 1981, understood the mechanisms -- mainly unprotected sex and unsafe injection drug needle sharing -- by which it spread, and developed medicines that when used correctly can keep most people with HIV healthy and make them unlikely to infect others. Condoms -- male and female -- work. Treatment-as-Prevention works. Pre-exposure prophylaxis (PrEP) can work for high-risk populations like sex workers and gay men with multiple partners. Widespread voluntary male circumcision reduces the number of new male infections enough to significantly change the mathematics of the epidemic in resource-poor countries. Needle exchange programs are effective and stunningly cost-effective prevention.
It's a triumph. Finally, after three decades of this miserable epidemic, we really can end it.
The second message is harder to hear. HIV/AIDS is a disease of exclusion, marginalization, and social injustice. As long as they continue, the wonderful interventions we have today will not fulfill their promise of ending AIDS.
So we need to change the world. And now that we know we can end the epidemic, we have no excuse not to.
Looking back, the science has been a triumph, but it has only been a necessary prelude to the business of changing ourselves to change the world -- no small task.
A South African clergyman we talked to said, "Of course it's hard. It's like what happens every Sunday at Communion when I consecrate bread and wine. I ask Our Lord to let them be to us as His body and blood. Then I ask Him to unite us to Himself in His sacrifice, and that's when we cross ourselves -- because bread and wine are easy to change, but changing us to become part of Him -- now that's a miracle."
Changing the World -- How?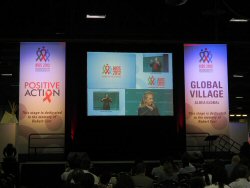 Secretary of State Clinton, live on the Global Village's Main Stage big screen.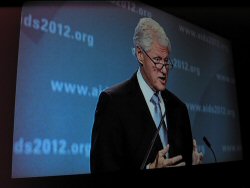 Former President William Clinton at the Conference Closing Ceremony.
The Conference told us we have to grapple with the specifics of the social inequities that put people at risk for HIV and deny them care or prevent them from seeking it.
This is a problem money alone can't solve. In the Monday morning Plenary, Secretary of State Hillary Clinton pledged $150 million in new international funding for HIV programs, targeting real and solvable problems, like equipping more African clinics to offer HIV specialty care to their primary care women patients. At Friday evening's Closing Ceremony, former President Bill Clinton praised lower and middle-income countries for now paying more of their countries' HIV program costs than international donors do, and predicting that more and more governmental and private donors will catch on to the excitement of ending AIDS and expand the international giving pool.
More money is a great step forward towards more nearly universal prevention, testing, and care, but it won't be enough by itself to help people who are shut out of care by HIV stigma, homophobia, and social injustice.
Who Are the Excluded?
We can start with women in traditional societies, denied economic independence, control of their own sexual lives, and full personhood. Very young women married to older men who regard them as property, who have had and continue to have multiple partners, and who don't know or don't care about the risk of HIV. Women forced into sex work and then demonized for it. Women who can't say No when their husbands want unprotected sex. Women who are prevented by stigma and internalized shame from disclosing their HIV status and seeking treatment. Until women have real equality -- until the girls of Afghanistan can go to school just like the boys and with the boys -- the new science cannot help them.
We can continue with what the Conference called "key populations" -- stigmatized groups with high infection rates and major societal barriers to care. Men who have sex with men, who can't go to an HIV clinic because homosexuality is illegal in their country. Sex workers, who didn't choose to be in the life, and are denied access to HIV prevention and treatment services by anti-prostitution laws that claim to promote public health. Transgender people, especially transwomen, who experience the perfect storm of stigma and exclusion: homophobia when they are looked at as men, disempowerment when they are looked at as women, loss of family who can't deal with gender identity issues, life on the street because only there do they feel accepted, the easy slide into sex work because no other work is offered, and the easy slide into injection drugs to dull the pain of sex work.
We can keep going with people who don't have access to health care because they are poor. It happens in this country, and it's a scandal. And we can finish with people who fall into more than one excluded population -- like District of Columbia gay teens who have access to free treatment without parental knowledge, know they need to start treatment, and won't do it because they would have to take pills home and explain what they are for and how and with whom they became infected.
Just as HIV prevention and treatment resources need to be targeted to where the epidemic is concentrated, so efforts to end exclusion and social inequity need to be targeted to the specifics of each case. The people who have been excluded are the people who know how the world needs to change, and to end this epidemic we have to give them their seat at the policy table. As gay men were saying thirty years ago, "Don't talk about us without us." It was true then, and it's true today for all the excluded populations.
Every case of exclusion is the same -- the unlovely but basic human impulse to define ourselves up by defining "others" down. And every case is unique in its details. Now that we can end the epidemic, it's our job to change the world one detail at a time. Ending the epidemic means ending poverty, stigma, and social injustice -- one detail at a time.
What About a Vaccine? What About a Cure?
Would an effective vaccine or a cure excuse us from the task of changing the world? No -- first, because social justice is important, whether or not achieving it ends HIV. And, second, because by themselves they wouldn't work.
One effective vaccination may be a medical triumph, but it does not end the epidemic by itself. One cure may be a triumph. But the epidemic will not draw to an end until the number of people being vaccinated, cured, or recruited into effective ART treatment every year exceeds the number of new infections. That can't happen until women and all the other excluded groups have real equality and unhindered access to health care.
That being said, a vaccine and a cure are greatly to be desired, and the Conference had hopeful news. An effective vaccine is still years away, but we are finally learning why developing one has been so difficult. And a cure is years away, too, but, since the case of the "Berlin patient," we know it's possible, and there is promising research on ways to force dormant HIV to activate, so ART drugs can destroy it, and educating the immune system to suppress HIV on its own.
Keeping it Human
Every case of exclusion is the same, and every case is unique in its details. Let's hear stories from real people -- an woman diagnosed during pregnancy, who had to fight for care and respect; a transwoman who came back from her slide into sex work and drugs to become a fiercely dedicated advocate for other transwomen; and a woman who went to prison because of ultimately homophobic HIV criminal laws.
Each of them is an American, a woman, and black -- we have work to do in this country. Read all about it in this issue's This is my story.