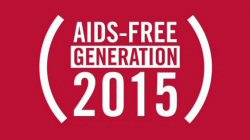 From fooyoh.com.
Today I really wanted to write about HIV and the Olympics, given the nation's (and Twitter's) immediate shift in attention from #aids2012 to #olympics, but I was recently forwarded an article in the New York Times that warrants some attention.
In the article "A World Without AIDS, Worlds Away," the author Lawrence Altman, M.D. tries to unpack the phrase "an AIDS-free generation" and the events at last week's 19th International AIDS Conference. Altman notes that the conference has become more of a convention than a forum for scientific meetings, expressing frustration at protests disrupting "scientific presentations and news conferences with loud demonstrations, creating a circus like atmosphere." But I have seemingly endlessly written about previously, the IAC isn't just for scientists and researchers, as Altman seems to suggest or even desire, but for all people affected by and living with HIV/AIDS, including those "disruptive protestors."
Advertisement
But what irks me even more than his complete misunderstanding about AIDS activism is his strategic quoting of a fellow doctor -- Dr. Richard Horton -- and the latter's claim that the call for an AIDS free generation is nothing more than a "marketing strategy."
Really? So what are we marketing? A hope for the future that there are less cases of AIDS insofar as they become more and more rare until they are globally absent? Is that marketing? Is a global movement of social justice actually marketing, or is the marketing at the IAC much more obvious than that?
I continue to be very vexed by this article, particularly when Altman posits such platitudes as, "Ending AIDS is more complicated than ending other epidemics," as though we haven't been saying this for years. Part of the reason that this epidemic will be so hard to end, as much as we want it to end now, is that doctors, such as Altman, can go on for two pages about the obstacles to ending AIDS and his discomfort with the phrase and semantics of "an AIDS free generation," but gives no time or consideration to the stigma of the disease.
That's right. And I checked twice. Nowhere in Altman's article or in his chiding of IAC protestors did he once mention the ways in which stigma, discrimination, and misinformation fuel the disease, which seems very symptomatic of the divide between the medical community and AIDS community at both the IAC as well the approaches taken in eradicating the disease.
Altman ends by cautioning those who advocate or speak of an AIDS free generation that until there is an HIV vaccine, an AIDS free generation will still be prone to HIV, and claims, "The conference participants who spoke of eradicating or eliminating AIDS failed to recognize that a vaccine was required to succeed against smallpox and polio." I'm not sure what parts of the conference Altman attended, by I certainly heard a number of attendees and PLWHA advocate for a global vaccine in sessions, panels, and networking zones in the Global Village.
But maybe Altman didn't visit the Global Village, or attend the same sessions as I did. What does this mean? That two people involved in the fight against AIDS can attend the same conference and still disagree about what was accomplished, what was said, and what our next steps forward ought to be.
Can we end AIDS? I have no doubt. But until everyone involved in the fight against AIDS are on the same page, our progress will be hindered by internal fracturing.