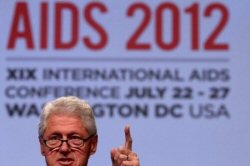 Image courtesy of France24.com.
After hundreds of sessions, dozens of protests, and one hell of a massive mobilization, the 19th annual International AIDS Conference came to a close this afternoon. In true IAC fashion, the closing session featured a long list of domestic and international speakers, a rotating troop of ASL interpreters, and a short video showing conference highlights, though predictably, it omitted the collection of protests that occurred at the Washington Convention Center.
Unlike the opening ceremony, however, which was steeped in self-congratulatory discourse about "how far we have come" in the fight against AIDS, the closing session was much more fierce and political. A bulk of the closing session speeches criticized the United States for its travel ban on sex workers -- a recurring theme and protest at the conference -- and calling on attendees to do more to end stigma and criminalization of those living with HIV/AIDS.
Advertisement
Of course, many of the attendees at the closing session were there to see former President Bill Clinton, and much like his
truly better half,
he received a celebrity's welcome when he stepped onto the stage. Cheers of adoration and support rang through the hall, attendees lifted themselves from their seat to give him a standing ovation, and dozens of photographers flocked to the stage to get a shot of the good old Southern Boy waving at the podium.
Make no mistake, Clinton had money on his mind as he addressed the crowd, a very appropriate topic considering how much of the IAC was devoted to discussing and finding the funds to end the AIDS epidemic once and for all. But embedded within his political platitudes about how we will meet our goals in creating an AIDS free generation because we have nowhere near tapped all of the private sources and celebrities (naming Elton John, among others) that will donate to HIV/AIDS global causes, and how even though all of the money needed to usher in a global AIDS free generation was not yet raised, he saw no reason to fret. "If we all keep producing results, I believe the money will be there and I am committed to making sure that it is. But sometimes, you have to make a commitment before you know how you're going to get there."
And this, perhaps, was the only misstep in his speech.
I get it. I get that we -- AIDS activists and allies and people living with HIV/AIDS -- need to continue to push for funding and recognition and decriminalization, even when the money needed to achieve these feats has not been allocated or even promised for our causes. I understand that Clinton is advocating for us to prove that we can lead the way toward an AIDS free generation and trust that the money will follow our progress.
But haven't we been asked to take enough leaps of faith already? Weren't we asked to take a leap of faith in the 80s when HIV was first diagnosed and that the medical establishment would treat this tiny virus to prevent it from becoming the defining epidemic of our and our loved ones' lifetimes? Weren't we asked to take a leap of faith in the 90s that the silencing of the 80s was over, that major news outlets, including the New York Times, would stop ignoring and villainizing people living with AIDS by creating a public and honest discourse about the disease?
Weren't we also recently asked to take a leap of faith by waiting for generic and more affordable HIV/AIDS medications to be available in the United States? Weren't we asked to take a leap of faith in that the International AIDS Conference's return to the United States in twenty-two years would foster a dialogue of all people living with HIV/AIDS, including sex workers and drug users? And weren't we asked to take a leap of faith that the Trans-Pacific trade agreement would not run counter to our goals of making HIV/AIDS affordable for all?
We have been asked to make more leaps of faith than I could even list, so forgive my bristling at being asked to make another one. We were tired in the 80s and we are tired now. Tired of being told to be patient and to trust those in power that they are implementing comprehensive and competent HIV/AIDS strategies. This year at the IAC, instead of hearing about the concrete steps the private and public entities are taking to end this epidemic, we are hearing excuses and the exiting strategies of political funding and pharmaceutical cooperation.
If there was any apt way to describe the six days of the IAC and this afternoon's closing session, it would be akin to watching a feature film and then at the end, seeing the words To be continued ... until you demand an ending.