D.C. Community Coalition Pushes for Citywide AIDS Plan
By Candace Y.A. Montague

August 2, 2012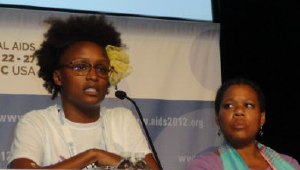 Tinselyn Simms-Hall, left, explains her position. Chrisitne Campbell, right, is DCCC co-chair. Credit: Candace Montague, D.C. HIV/AIDS Examiner
The International AIDS Conference shined a spotlight on the epidemic in the United States and more importantly here in D.C. Now, one advocacy group is putting the pressure on city leaders to develop a comprehensive citywide plan to end the epidemic in the District. The D.C. Community Coalition held a press conference during the conference last week to highlight their policy platform. The coalition membership includes AIDS activists, faith leaders, women's groups, transgendered persons, people living with HIV, social workers, health care providers, lawyers, researchers, youth, gay men, sex workers -- some as individuals, many as representatives of community and national organizations working in D.C.
There are many activist organizations around the metropolitan area but the DCCC isn't your everyday activist group that goes around lighting fires to merely draw attention to the epidemic. They are a uniquely composed group that has a vested interest in ending the epidemic in the city. They are educated, poised to handle politics, and committed to keeping attention and pressure on its elected and appointed officials to raise their level of engagement.
During the press conference, representatives from the coalition explained their four priorities for city officials to address.
One-develop a citywide HIV Strategy in 2012 that is modeled after the United States National HIV/AIDS Strategy.
Two-eliminate the District's housing waiting list for persons living with HIV and AIDS which is over 1,000.
Three-begin a cross-government effort to make transparent and accountable all sources of funding and all expenditures for HIV and AIDS programs in the District.
Four-develop processes to achieve meaningful engagement of community stakeholders in all aspects of HIV policy and program planning in the District.
Stakeholders had a chance to elaborate more on their expectations from city officials as they move towards developing this citywide plan. Ron Simmons, Executive Director of Us Helping Us- an organization for Black gay and bisexual men, says that the plan needs to be sensitive to the needs of Black Men who have Sex with Men (MSM). "We are calling for a strategic plan that really addresses MSM and their significant needs. The strategy not only has to be community based but also structural and biomedical." Tinselyn Simms-Hall, a staff member at The Women's Collective in Northeast says in light of the latest epidemiology report, the needs of Black women need to be examined beyond their sexual behavior. "HAHSTA reported that some Black women have HIV infection rates as high as 12 percent. But no one is really talking about what is fueling this epidemic. We must make sure that we look at the full issue instead of looking at what happens in people's bedrooms."
Be on the look out for more information about the D.C. Community Coalition as they look into ways to push for a citywide plan to end the epidemic.
Get email notifications every time this blog is updated.
---
| | |
| --- | --- |
| No comments have been made. | |
Add Your Comment:
(Please note: Your name and comment will be public, and may even show up in
Internet search results. Be careful when providing personal information! Before
adding your comment, please
read TheBody.com's Comment Policy
.)