Dr. Pierre Vigilance, Demystified -- Part Two
By Candace Y.A. Montague

August 1, 2012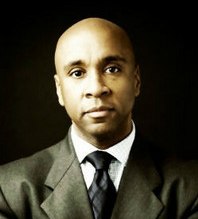 Dr. Pierre Vigilance -- not so mysterious after all. Credit: Pierre Vigilance.
Dr. Pierre Vigilance came to the the District in 1988 to study health in medical school. In 2008, he was chosen to run the Department of Health. There was plenty of buzz about his lack of action on health issues and much speculation about a tumultuous relationship with the director of the Department of HIV/AIDS, Hepatitis, STD, and Tuberculosis Dr. Shannon Hader (click here to read her interview). Dr. Vigilance, 42, admits that there were disagreements along the way but he harbors no ill feelings about anyone or any of the experiences during his tenure. He is now a visiting professor for public health practice at George Washington University.
Sitting comfortably at a table, impeccably dressed and very well groomed, Dr. Vigilance explained his point of view on the latest epidemiology report and what a comprehensive AIDS plan in D.C. would look like to him.
What's your take on the latest epidemiology report?
From my reading, there are two elements to the report; the epidemiology report, and the study that accompanied it. What's interesting, that I noticed, is the number of people living with AIDS in D.C. has gone down. This is good news. That data could mean a number of things. For example, it could indicate that people with HIV are either not progressing to AIDS as quickly (with or without medication), or more HIV patients in D.C. are gaining rapid access to care, and once in care they are remaining compliant with their drug regimens. The fact that there are more people living with HIV does not necessarily mean that the epidemic is getting worse. It can also be true that more people are being identified through testing and more HIV patients are living longer. I think that those are the types of nuances that can get lost in some epidemiology reports.
The study portion of the report is very specific. They are talking about three CD.C.-defined study populations; high-risk heterosexuals, injection drug use and men who have sex with men. The study defines high risk heterosexual by social networks that are known to be engaged in high-risk sexual activity. The headlines that I've seen and heard the most about relate more to HIV rates in heterosexual black women. A jump from 6 percent to 12 percent in any group is alarming, but it is my understanding that this does not represent all black women in the District of Columbia. It only represents the Black women who were tested in the high-risk heterosexual group of this study. This does not render these rates inconsequential, but I would not be hasty to apply this statistical trend to all black women in the District of Columbia. But when we read alarming headlines that say a rate has doubled, we should keep in perspective the study population, and be wary of how it's pitched.
Advertisement
There's no question that the rates among African-American women continue to be high. We also have to look at who African-American women are dealing intimately; primarily African-American men. Women tend to go to the doctor more frequently, and in general tend to be more health-aware and more likely to be tested for HIV. So what are the men doing? Men are not getting tested as frequently as they need to be. Also men are aware of using condoms but they aren't necessarily routinely doing that. "Condom negotiation" between sex partners can be a problem. There are people who have experienced challenges in asking for and requiring that one is used.
There's no disease (in our time) that has been stigmatized the way HIV/AIDS has been. The condition doesn't discriminate along lines of age, sex, race, economic status, employment, ward, etc. As individuals, we care very deeply about who is affected with certain conditions because we want to be able to say, "I'm not in that group so my risk is low." My point about addressing the determinants of diseases is to highlight that our behavior does not always match our personal perception of risk, so we all would do well to be more careful.
In your opinion, what would a multi-agency, comprehensive citywide AIDS plan look like?
Given the opportunity to be comprehensive in our impact, we would think about health comprehensively. Take away the walls that separate the agencies, corporations, and institutions that have the desire to address health in the District of Columbia, and let them create change with a new integrated way of thinking at the core of their interaction.
I would like to see government agencies address prevention across the board; HIV, diabetes, obesity, cancers, etc, because while they may not share risk factors, they share determinants, or drivers such as poverty, education, economic development, etc. I believe that from a prevention perspective, improving access to care is just one piece of the equation. The primary mode of operation for combating HIV should lie in addressing it's social determinants. We need a holistic approach. Some will say that my response to this question doesn't speak singularly to an HIV/AIDS strategy, and they would be right. My lens is wider and I would need their help in fine-tuning the approach as necessary. I would not want to address HIV/AIDS and leave other widespread, debilitating chronic conditions untouched.
Missed part one? Click here to read.
Get email notifications every time this blog is updated.
---
| | |
| --- | --- |
| No comments have been made. | |
Add Your Comment:
(Please note: Your name and comment will be public, and may even show up in
Internet search results. Be careful when providing personal information! Before
adding your comment, please
read TheBody.com's Comment Policy
.)