Dr. Pierre Vigilance, Demystified -- Part One
By Candace Y.A. Montague

August 1, 2012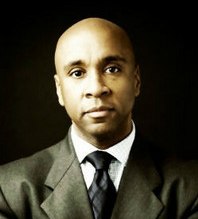 Dr. Pierre Vigilance -- not so mysterious after all. Credit: Pierre Vigilance.
I have wanted to interview Dr. Pierre Vigilance since he began his tenure as the head of the D.C. Department of Health in 2008. But there was this wall around him and each brick was a negative adjective about his character. He's a bully. He's pretentious. He's arrogant, aloof, apathetic and another "a" word that I'm not allowed to use on this site. Eventually, I moved on. But I finally got my chance to interview him a few weeks ago. I braced myself for an interview with the "big bad wolf" who might still be a tad bitter. However, the man who met me did not fit that description. I interviewed a man who was warm, relaxed, unabridged, and attentive (which is a nicer "a" word to describe him).
In part one of this interview, Dr. Vigilance explained the highs and lows during his tenure and what he would change in regards to AIDS in the District if he were to do it all over again.
During your tenure at the Department of Health, what were your biggest successes and challenges?
The major success we had was being able to galvanize the Health Department team. We did our best to make them feel appreciated for what they've done by highlighting the work they were doing. We published a number of reports including the HIV Epidemiology Reports, the Obesity Report and Action Plan, and the Preventable Causes of Death Report to highlight the District's health problems and health behaviors. We wanted to highlight behavioral issues, and it wasn't always easy for folks to grasp this as a concept because they are so used to hearing about health from the perspective of diagnoses, and not preventable causes (some of which are behavior driven).
The challenge is everyone wants a "quick fix", and when the onus is placed on providers such as doctors, nurses, social workers, etc. to take care of all health-related issues the responsibility that should be borne by agencies, corporations, and individuals is lost. Many health issues have an underlying cause in economic development, education, transportation, housing, and poverty (to name a few). These determinants affect the conditions in which we live, and they can make a difference with respect to noise levels, air pollution, street safety, and access to exercise, healthy food options, and medical care.
Advertisement
What would you have done differently regarding HIV/AIDS in D.C.?
I think the leadership in our HIV/AIDS Administration was appropriately forward leaning in terms of testing aggressively. Other testing campaigns in other jurisdictions where I have worked before like in Baltimore were very good at establishing the size and scope of the problem.
If I were to do things differently I would have pushed harder for D.C.'s situation to be used to highlight the utility of effective testing campaigns with the ultimate goal of having more jurisdictions commit to testing more people. The nation as a whole could use a clearer picture of where it sits with respect to this epidemic.
It is significant that the District has the rates that it has, and that we have a more complex epidemic than jurisdictions where injection drug use or sex among men who have sex with men (MSM) are the primary risk factors. Since we have a combination of heterosexual, MSM, and IDU transmission we have to build a system that responds to that mix.
The other thing I would do differently is, in working with those community-based organizations (CBOs) who have their feet (and hearts) in the community, would be to engage them in improved capacity building. They need more capacity building, technical assistance, and oversight than our resources were able to provide. I think we can always do a better job with oversight. That oversight would give the agency a better look at what was being provided and maybe put it in a position to provide more care to more people.
In part two, Dr. Vigilance discusses his take on the latest epidemiology report and his idea for a citywide AIDS plan.
Get email notifications every time this blog is updated.
---
| | |
| --- | --- |
| No comments have been made. | |
Add Your Comment:
(Please note: Your name and comment will be public, and may even show up in
Internet search results. Be careful when providing personal information! Before
adding your comment, please
read TheBody.com's Comment Policy
.)