Sleep? Who needs sleep? Mark S. King video blogged every day of the XIX International AIDS Conference (AIDS 2012). Check out these reports from his unique, moving, often hilarious perspective.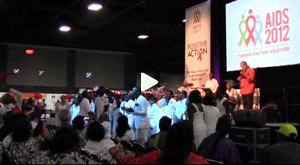 July 27: AIDS 2012 Farewell -- The Voices of the World
As "summer camp for global AIDS advocates" draws to a close, Mark pays tribute to the people who are on frontlines of the epidemic, and who are the very essence of AIDS 2012.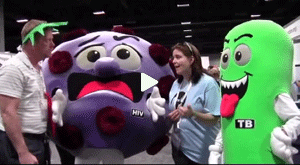 July 26: The Global Village
As the conference hits its stride, Mark critiques fashion with designer Jack Mackenroth, starts a YouTube rivalry with singer Jamar Rogers and has an interesting experience in the D.C. subway.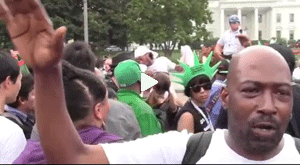 July 25: The March on Washington
It's difficult sometimes, writing about an event that so easily lends itself to images and sound. Such is the case with the AIDS 2012 March on Washington, the subject of this day's episode.


That's not all, folks; click here to watch more of Mark's videos from AIDS 2012.
Nelson Vergel: Starting Your Journey With HIV (Video)

"As a 27-year HIV survivor and research advocate, it amazes me how many people make uninformed choices due to lack of direction and support. That is why I decided to sit down to attempt to describe the most important things that every newly diagnosed person should know."



Candace Y.A. Montague: Why Blacks in Washington, D.C., Need to Engage in More Civil Disobedience
"It's a shame that we sometimes become so complacent and numb to this illness that we just leave the battle up to strangers and hope for the best. HIV in D.C. is not Margaret Cho's battle. It's not Wyclef Jean's battle. It's the battle of the infected and affected and although it makes you weary at times, you must fight on."



Teniecka Drake: Let the Haters Hate!
"It is one thing to have to wake up every day and deal with being HIV+. It is quite another issue to have to deal with a hater. ... Recently, I have been wondering about friends and people who I have known for years. It struck me that there are some haters in my midst."
fogcityjohn (From San Francisco, Calif.) on "Risky Talk"

"You're certainly right that we take risks every day, but I think you err when you hypothesize that we poz folks may simply be greater risk takers than other people. ... Do we ever ask whether people who drive cars are somehow psychologically different from the rest of us? Do we ask that question about, say, hang gliders or snowboarders? Do we ask that question about your average couch potato who spends his time watching TV while downing beer and chips? I don't think so."

Read the rest of this comment and join the discussion on this article!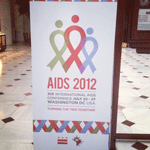 Is the "Berlin Patient" No Longer Alone? Stem Cell Transplant Appears to Clear HIV in Two Men on Treatment

Two HIV-positive men are showing no traces of HIV in their blood after going through stem cell transplants similar to the one "Berlin Patient" Timothy Brown received. However, both patients have yet to discontinue their HIV meds.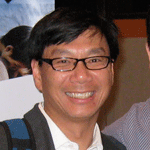 60-Second HIV Treatment Research Review From AIDS 2012: New Strategies, New Drugs
Ben Young, M.D., takes us on a whirlwind tour through the most noteworthy antiretroviral studies presented last week at the International AIDS Conference, from exciting drugs in development to new data on approved drugs.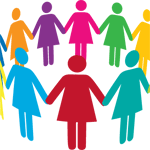 HIV Viral Load Suppression Less Likely Among Women Than Men; Menopause May Impact CD4 Response
AIDS 2012 treated us to a rarity in HIV research presentations: Multiple antiretroviral therapy studies in which women, not men, were the focus. Unfortunately, they may have left us with even more questions about gender-specific responses to HIV treatment.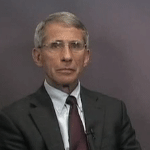 Anthony Fauci: The Tools to End AIDS (Video)
Anthony Fauci, M.D., the outspoken director of the U.S. National Institute of Allergy and Infectious Diseases, reflects on the advances in HIV research. He also discusses how we can implement all our existing HIV treatment and prevention methods to end the AIDS pandemic.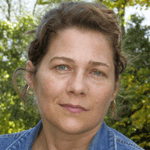 Smoothing Out the "HIV Treatment Cascade": Retention in Care and HIV Treatment Success in U.S.
The term "HIV treatment cascade" refers to the steady drop-off from the number of Americans who have HIV to the number who have an undetectable viral load. Why is the gap so large, and how do we fill it? New research focuses on these critical questions; Heidi Nass reports.


More Headlines on HIV Treatment & Health Issues:

"I am much stronger than you. I decide my own fate and destiny. So, you need me to survive? Let's make a deal." -- Jaco Lourens

Watch Jaco's video letter to HIV and browse through many more of our readers' submissions to the "Write a Letter to HIV" campaign started by blogger Justin B. Terry-Smith. We'd love to see you submit your own letter!
AIDS Memorial Quilt in the White House

There was no Obama at the International AIDS Conference last week, but there was a photo released of the President looking presidential as he examines an AIDS Memorial Quilt panel currently installed at the White House.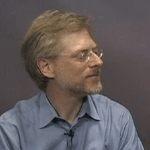 Mitchell Warren: Manage HIV Policy Like a Business (Video)
Mitchell Warren, executive director of AVAC (AIDS Vaccine Advocacy Coalition), discusses how we can take HIV research and translate it into an actionable plan. He suggests changing how we monitor data and manage policy by thinking more like a business with immediate goals to meet.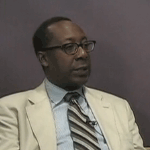 Cornelius Baker: How to Progress the Fight Against HIV/AIDS (Video)
Cornelius Baker, the senior communications adviser and project director of the Center on AIDS & Community Health, gives a firsthand account of how HIV policy in Washington, D.C., has improved since the mid-1990s and how cities can collaborate to continue the progress.


More HIV News & Policy Headlines:

As a Gay Man in Texas, Where Do I Start Looking?
(A recent post from the "Gay Men With HIV" board)

"I am and have been ready to settle down, but I have not had much success with someone (positive) that shares the same ambition. ... I keep hearing that I am a very attractive guy and 'Why are you single?' -- even my pastor asked that very same question. LOL! I really do not know where to look. Where to start. I even question if people actually notice me. I am a decent, masculine guy, with a great smile, an athletic build, broad shoulders with high energy. Is it just me that finds it difficult to locate the missing part in their life?"

-- TheArchitect

Click here to join this discussion, or to start your own!

To do this, you'll need to register with TheBody.com's bulletin boards if you're a new user. Registration is quick and anonymous (all you need is an email address) -- click here to get started!
This Positive Life: Cedric Sturdevant Shares His Experience Fighting the Big Disease With a Little Name (Video)

Cedric Sturdevant, a 46-year-old gay man from Jackson, Miss., was diagnosed in 2005 along with his partner at the time. After a scary hospital stay during which he disclosed to his family, Cedric knew he wanted to get better and become a voice for those living with HIV.



A Moment With One Bad Pirate at AIDS 2012
"At the AIDS Quilt Ceremony on [July 24], a muscular, tattooed man quietly pushed a wheelchair with a thin, red-haired woman in it close to the stage," Candace Y.A. Montague reports. "They slipped into the small crowd and focused squarely on the stage. As the names were being read, this tough-looking man -- whom many would assume was a biker at first blush -- began to weep."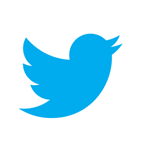 AIDS 2012 Twitter Buzz: Winding Down and Looking Forward
Twitter rolled on even as the International AIDS Conference wound down. In our collection of highlights from the conference's final day, we feature 140-character discussions of HIV prevention and criminalization, as well as the future of the conference -- and the future of HIV.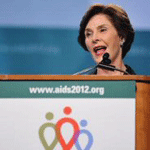 "Vagina Pride:" Laura Bush Keynotes Session on Female Leadership
"When former First Lady Laura Bush entered the International AIDS Conference's largest session room ... at a special session titled 'Leadership in the AIDS Response for Women,' I felt conflicting emotions for this woman," admits Housing Works' Lucile Scott. However, Bush's speech won Scott's admiration.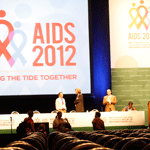 Who Was the International AIDS Conference For?
More than 24,000 people attended the International AIDS Conference in Washington, D.C., last week. But as Housing Works reports, despite the conference's massive size and scope, many in the HIV community who attended felt that the conference didn't speak to them.



More Opinions & Perspectives:

Detail from:
"Safer Sex Series (Kissing)," 2003
Richard Sawdon Smith

Visit the August 2012 Visual AIDS Web Gallery to view our latest collection of art by HIV-positive artists! This month's gallery, "Bloodbrothers," is curated by David Serotte.


HIV/STD TRANSMISSION & EDUCATION
Antu Dey: Best of Times for HIV Vaccine Research (Video)

Antu Dey of Novartis Vaccines & Diagnostics in Cambridge, Mass., talks about where we are in terms of HIV vaccine development. He compares the safety and efficacy of vaccine research in animal and human trials, and discusses the need for vaccine researchers to collaborate.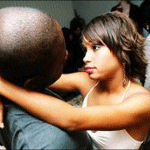 High-Risk Sexual Activity Among Black U.S. Teens Drops Dramatically Since 1991
"Despite the sobering reality that blacks currently experience the highest rate of new HIV infections among any racial group in the U.S., the ... findings are a heartening sign that, among black high school students at least, efforts at promoting safer sex have borne fruit," reports Imani Evans for Black AIDS Institute.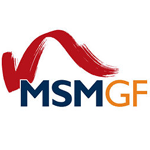 Research on Gay Men and Transgender People You Didn't See at AIDS 2012
The Global Forum on MSM & HIV announced the launch of a new publication featuring more than 100 abstracts on transgender people and men who have sex with men that were rejected from last week's International AIDS Conference.


More HIV/STD Transmission & Education Headlines: