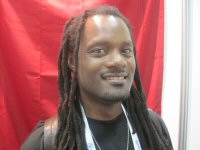 Rob Newells
Lots of people left Washington on Friday, so they didn't get a chance to catch the last few sessions. I was particularly interested in the Rapporteur Session where rapporteurs boiled the entire week's worth of sessions down to 12-minute summaries of each track. (I got a pretty good seat because the room emptied out after Whoopi Goldberg finished speaking to a packed house at the previous session.) I'll try to highlight what stood out to me both as an advocate and as an African American MSM living with HIV from those summaries before offering my reflections on the closing session.
Track A -- Basic Science. There was lots of talk about a cure. Takeaway: To get to a cure, there needs to be a combination of research efforts. ("Combination prevention" was highlighted all week, so why not "combination research?")
Track B -- Clinical Science. When should antiretroviral therapy (ART) be initiated? The HPTN 052 study was the star of the show. Results indicated that there was no statistical difference between starting ART at CD4 counts above 350 or below 250. Whether or not starting ART at CD4 counts above 500 makes a difference is still an open question. Takeaway: With more coverage and more options for ART, we should expect to see more resistance.
Track C -- Epidemiology and Prevention Science. We have to work smarter. Prevention efforts should be targeted to at-risk populations within the general population. Coverage of HIV testing must remain a focus of our prevention efforts in order to find HIV-positive people sooner. Pre-Exposure Prophylaxis (PrEP) -- like ART -- works when taken, but knowledge about PrEP is fairly low. Takeaway: HIV prevention requires combined interventions, and addressing structural factors is necessary for combination prevention to work.
Advertisement
Track D -- Social Science, Human Rights and Political Science. Are we doing enough for children? There are 3.4 million children worldwide infected with HIV, but children ages 10 to 18 are often excluded from research studies. We need research that includes children in order to find appropriate interventions for that population. Also, a correlation between the level of corruption in a country and ART coverage was noted, and advocates were challenged to lobby for zero-tolerance of corruption. Takeaway: Social science, biomedical science, advocacy, and community programming have to work together (in combination) in order to turn the tide.
Track E -- Implementation Science, Health Systems and Economics. There is evidence that use of cell phones can increase adherence. New point-of-care technology for CD4 counts and viral loads was introduced this week. Community-based adherence support using patient advocates results in improved viral load suppression and retention to care. There are at least three trials looking at the effectiveness of combination HIV prevention versus individual interventions. There must be community involvement and an evidence-based approach to prevention. Focus on what works and deliver ART more efficiently. Takeaways: (1) Continue to invest in implementation research, (2) health systems must work with communities, (3) invest in health systems, and (4) invest in this epidemic now.
Track F -- Leadership and Accountability Program. There must be leadership at all levels -- political, science, corporate, civil society, and change agents. Ground-level realities must be recognized, and we need men and women who are not afraid to send word back up the line when newly announced policies need to be amended. Takeaway: Universal access to care is a prerequisite for an AIDS-free generation, and we must adopt combined biomedical and behavioral interventions to achieve that goal.
Community Track. Sexual health care is essential for youth. Older people should be involved in planning efforts. Community support increases condom use and keeps people on treatment.
Youth Track. People living with HIV (PLHIV), men who have sex with men (MSM), sex workers, injection drug users (IDU), transgender, and women and girls are all key youth populations. Takeaway: Sector jargon (all those acronyms) creates real barriers, particularly with young people.
Global Village. The display of talent in the Global Village was enormous. The space was filled with youth energy and enthusiasm throughout the week. Takeaway: More can be done with art to engage youth.
After the Rapporteur Session ended the room started to get crowded again. (I got to keep my good seat for the closing session with former U.S. President Bill Clinton.) A representative from the District of Columbia Community Coalition announced that they are asking their mayor for a city-wide AIDS strategy. Hello?! I was prompted to act immediately. Oakland has a "state of emergency" around HIV/AIDS, but do we have a strategy? No. Well, not yet. I contacted my colleague and friend, and she will start that conversation in City Hall next week.
I teared up a little during the closing video summary of the week. It really was a powerful conference. In reference to PEPFAR, former House Speaker Nancy Pelosi's "Thank you, President Bush" sounded an awful lot like Dorothy's "Thank you, Rose" from The Golden Girls. (I'm sure she wasn't being sarcastic, but I got a giggle out of it.) In talking about treatment as prevention (TasP), a representative from the Caribbean Alliance noted that TasP is good, but treatment is first and foremost for PLHIV, and that a solely biomedical approach will not be enough to end AIDS.
Then the star of the closing session was introduced. Bill Clinton rocked the place. He called for implementation of TasP and implementation of combined prevention programs as Dr. Julio Montaner has suggested. President Clinton noted that affected countries are now contributing more than half of their own AIDS funding. He repeated much of what we heard during the week. We have to implement effective treatments and combination prevention to reduce infections and lower treatment costs. We have to target prevention dollars more effectively by focusing on high-risk populations. Then stuff got real. For the $600 per day some companies pay consultants, we could put three people on antiretroviral medications for a year.
The former President even shouted me out during his closing. Well, not really, but in recognizing places that have taken responsibility for the epidemic locally, he said "from Anacostia to Oakland" which is the route I'm taking from the 19th International AIDS Conference back home as I write this. I know why this conference only takes place every two years. I've got at least two years' worth of work to do before I'm ready to do it all again at AIDS 2014 in Australia!
Robert Newells is the founder of Healing Faith, the HIV prevention program of the Life Care Ministry at Imani Community Church in Oakland, Calif. Rob works intentionally with and through African-American faith communities to reduce stigma and provide culturally relevant HIV information to all Oakland residents.