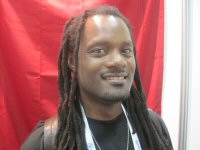 Rob Newells
Wednesday at AIDS 2012 was almost a bust. The two sessions on Combination Prevention weren't exactly what I expected. Even before all of the presentations this week where scientists reviewed their findings and talked about the need to deliver targeted combinations of behavioral and biomedical HIV prevention methods, I thought there was a shared understanding of what "combination prevention" meant. I was wrong. "Combination HIV Prevention Interventions: Can They Work?" focused on female condom use in South Africa, concurrent sexual partnerships in Botswana, sexual risk behavior change in Malawi, integrating HIV prevention with nutrition programs in India, and HIV prevention for drug users in New York City.
There was some interesting information, but nothing that I was particularly interested in, and definitely not what I expected when I added the session to my conference schedule. The second "Combination Prevention" session started by looking at behavior change among female sex workers in Kenya. I gave the day one more chance. The "Regional Session on USA and Canada" included opening remarks by Secretary of Health and Human Services Kathleen Sebelius who summed up the information on the widely-publicized treatment cascade by noting that 59% of people living with HIV/AIDS in the United States are slipping through the cracks. Kevin Fenton from CDC followed the Secretary with an update on the U.S. epidemic. The fact the HIV incidence has been stable over the last decade is a result of a decrease in incidence among injection drug users and heterosexuals offset by an increase in HIV incidence among men who have sex with men (MSM) -- particularly young MSM. Black and Latino MSM populations are driving those numbers.
In the United States, one in 16 black men and one in 32 black women will be diagnosed with HIV ... not MSM ... not IDU ... not sex workers ... men and women. Dr. Fenton repeated what we've heard throughout this international conference: high-impact prevention -- combination prevention -- is needed to end AIDS.
Robert Newells is the founder of Healing Faith, the HIV prevention program of the Life Care Ministry at Imani Community Church in Oakland, Calif. Rob works intentionally with and through African-American faith communities to reduce stigma and provide culturally relevant HIV information to all Oakland residents.
(Please note: Your name and comment will be public, and may even show up in
Internet search results. Be careful when providing personal information! Before
adding your comment, please
read TheBody.com's Comment Policy
.)