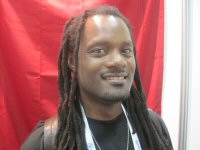 Rob Newells
My sixth full day of conferencing was a long one ... 16 hours from Breakfast Update through Networking Reception. I'll highlight the day's early and late sessions.
Tuesday's plenary session was "Challenges and Solutions." In "Viral Eradication: The Cure Agenda," Javier Martinez-Picado talked about the need for a cure, barriers to a cure, strategies to a cure, priority areas for research, scientific and technical challenges, and other considerations. He stressed that tissue is a greater source of plasma viremia than the blood. The increased HIV burden in tissues may be the result of different drug penetration, cell-to-cell transmission, or some other unknown factor.
Former Senator, Dr. Bill Frist, introduced Dr. Nelly Mugo from Kenya who presented "Implementation Science." She led with a shocker. Kenya has had 30 million AIDS-related deaths since 1980, and the entire population of Kenya is 40 million people. She listed three needs:
Think about marginalized populations for targeted prevention. What works for MSM in Cambodia is different than what works for heterosexuals in Africa.
Prioritize interventions that work (ARV treatment, PrEP).
Implement combination high impact prevention.
Dr. Mugo stressed that PrEP, like ART, works when taken as directed, but risk perception is key for any strategy to be effective. She also was adamant that PrEP is not a lifelong intervention. It is to be used "for a season." In Kenya, 20% of PLHIV refused treatment primarily because they felt well. Medical professionals have little experience starting ART in asymptomatic persons. Adherence, sexual risk taking, ARV resistance, who will use, and who will pay are all challenges and opportunities shared by ARV and PrEP.
"What Will It Take to Turn the Tide?" was presented by Dr. Bernhard Schwartlander. He left is with a few gems:
"Business as usual will lead to stagnation."
"Pay now or pay forever."
"The world overall is getting richer. We have to make it fairer."
He also reviewed various options for domestic HIV financing in Africa as well as options for global development financing. Finally, Dr. Howard Koh from HHS highlighted the administration's efforts, successes, and plans for the National HIV/AIDS Strategy in his presentation "Building on Success: A National Strategy to Save Lives."
Advertisement
The Lancet medical journal closed out the day with its "Special Theme Series: Men Who Have Sex With Men and HIV." Among the first issues highlighted was that homophobia is the key driver of the increasing HIV epidemic among MSM. Young men are still dying, not because there isn't any treatment but because of stigma and discrimination.
The efficiency of transmission of HIV is increased in MSM who practice versatility in being insertive and receptive during anal sex. Due to the biology of HIV in anal sex, even substantial behavior change is not enough to change the epidemic.
In discussing "Successes and Challenges," Patrick Sullivan suggested that using the HIV prevention technologies we have today, we can prevent 75% of new HIV infections among MSM. He kept with a popular conference theme in saying that combination prevention (behavior, biomedical, barrier, structural, social, and societal interventions) will be required to have any significant impact on the epidemic. According to Sullivan, condoms reduce transmission by 80%, PrEP reduces transmission by 44%, HIV testing reduces transmission by 68%, and treatment reduces transmission by 96%. Those interventions along with changing behaviors, decreasing stigma, and ending criminalization equal combination prevention.