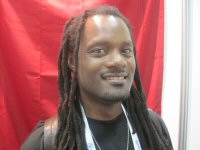 Rob Newells
It took me almost half an hour to get from the lounge to Session Room 3 for "Health Disparities and the U.S. MSM HIV Epidemic" (and I almost gave up trying), but I made it. I only missed the first two of six speakers: a presentation on trends in prevention and testing among young MSM and another one on the role of partner transmission in racial HIV disparities among MSM. (The entire session is available online at www.kff.org/aids2012.)
A couple of speakers presented oral abstracts on the HPTN 061 study. Both Ken Mayer and Beryl Keblin concluded that culturally tailored combination prevention strategies are urgently needed for black MSM. Some of the more interesting data from that study confirmed what most of us already know. Young (18 to 30 years old) black MSM had a significantly higher HIV incidence rate than black MSM over 30 years old, and receptive partners have higher incidence than insertive partners in anal sex.
The oral abstract presentation by Alexandra Oster from CDC focused on Latino MSM. The study looked at how location of birth and time since immigration affect HIV risk. Not surprising, but the data shows that poverty is a significant issue for Latino MSM just as it is for black MSM. The study concludes that HIV incidence is significantly lower among Latinos who arrived in the U.S. less than five years ago. Latinos who were either born in the U.S. or immigrated more than five years ago showed higher incidence. The data suggests that foreign-born MSM acquire HIV after arrival in this country. That makes the first five years of U.S. residency a critical window for HIV prevention among Latino MSM.
Linda Beer presented information on racial disparities in antiretroviral use. That study confirmed that black MSM have no more high-risk sexual behaviors than white MSM, but showed that black MSM are less likely to be on antiretroviral treatment (ART) or to have a suppressed viral load -- even among those on ART. More than half of all black MSM living with HIV are not virally suppressed. It's not about risky sexual behavior, so what is it? Adherence? Regimen? Closed social networks? Who knows?
Advertisement
I attended two Treatment as Prevention (TasP) sessions in the afternoon. "Treatment as Prevention: A Work in Process" did not disappoint. It turns out that prioritization for TLC-Plus implementation among MSM alone is not the most cost-effective. Focusing on injection drug users (IDU) or IDU+MSM subpopulations is better, and covering the entire population is the best.
In Vietnam, testing intervals were evaluated. The conclusion was that testing once every one or two years is the most effective and cost-effective. Their focus is on IDU followed by female sex workers. They don't have a problem with black and Latino MSM or women of color, so I'll take these results with a grain of salt. However, I do agree with their conclusion that combination prevention enhances the effectiveness of TasP.
There was some interesting data out of Namibia, then here comes Ken Mayer again. (I think he's following me!) I'm sure he surprised a lot of skeptics when he reported that unprotected sex decreased on TasP. (A major argument against implementation is that condom use would decrease.) Have another grain of salt. The sexual behavior data is all self-reported, and we know that there were pregnancies reported. Immaculate conception? Dr. Mayer still trusts the data, but they'll be taking a closer look.
Julio Montaner and Ken Mayer -- okay ... he's definitely following me! -- presented opposite sides of the TasP debate in "Treatment as Prevention: Is It Time for Action?" Is it simple or is it complex? Dr. Montaner says that expansion of ART resulted in fewer new infections and fewer AIDS deaths in British Columbia where they have universal healthcare. I heard some strong opposition from people living with HIV (PLHIV) during some of the pre-conference sessions. They expressed concern that newly diagnosed people would be forced onto ART while there are still questions about the long-term effects of the medications. The position is that treatment decisions should be made by PLHIV independent of prevention goals. (Treatment is treatment.)
Dr. Mayer went through a long list of complexities in the implementation of TasP, including health disparities and combination prevention. He pointed out that we haven't scaled up other prevention options yet and that there are already inequities in access to treatment that could be exacerbated. Virologic suppression in the U.S. is at a whopping 28% which prompts the idea that everybody should be on treatment, but that brings up the same concerns from PLHIV. A final tidbit: case management increases retention to care. It's something I heard during another session: bio-behavioral interventions. (That sounds a lot like "combination prevention," too!)
Wednesday, there are actually a couple of sessions about ... wait for it ... COMBINATION PREVENTION!
Robert Newells is the founder of Healing Faith, the HIV prevention program of the Life Care Ministry at Imani Community Church in Oakland, Calif. Rob works intentionally with and through African-American faith communities to reduce stigma and provide culturally relevant HIV information to all Oakland residents.