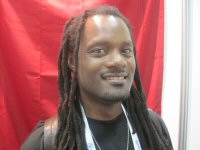 Rob Newells
The conference didn't officially open until 7 p.m., but having already been warmed-up by three full days of pre-conference activities, attending a satellite session on health disparities at 11 a.m. didn't sound like too much for me to handle. (Clearly, I didn't do the math, or I would have figured out that by the time I left the D.C. Mayor's Welcome Reception I would have put in a 12-hour day on two free meals and a single battery charging break!)
The experts that presented and discussed "Health Disparities, Hurdles and Hope" did an excellent job of laying out specifics about what most of us already know: black people -- MSM and heterosexual women in particular -- need focused attention in our efforts to end AIDS in the United States. Everything doesn't work for everybody. Sheryl Zwerski from NIH suggested that a move from single products and prevention methods to integrated combination prevention programs is necessary. (There's going to be a lot of talk about Combination Prevention this week.)
Of the health disparities, HIV Prevention Trials Network researcher Dr. Darrell Wheeler said that "poverty may be the most important risk factor," and Dazon Diallo-Dixon from Atlanta's Sister Love urged advocates to ensure that issues around trauma and violence are also included in prevention studies. She also challenged advocates to push for the Department of Education to be included in the National HIV/AIDS Strategy, which is a "living document." (Science-based comprehensive sex education, anyone?)
Advertisement
Sharon Stone was at the microphone when I entered Session Room 1 for the conference opening. (I hardly paid her any attention because my new advocate friends from Jamaica were far more entertaining.) The highlight of the pre-show had to be the Gay Men's Chorus of Washington D.C. singing The Jackson 5 classic "I'll Be There."
The opening session was long. People seemed to speak longer and longer as it got later and later. Michel Sidibé, the Executive Director of UNAIDS, had the most memorable speech. "Stigma and discrimination are stealing lives here just like in Africa and Asia," he said. Then he invited the testimony of an HIV-positive Nigerian mother and her HIV-negative teenage daughter. (The mother looked like Queen Aoleon from Coming to America, and the daughter looked like she could be a model.) Mr. Sidibé owes them more than congratulatory kisses. They stole the show.
After a late start (and a later finish), I spent a little time networking at the D.C. Mayor's Welcome Reception before calling it a day. This was just the opening. Monday, it gets real.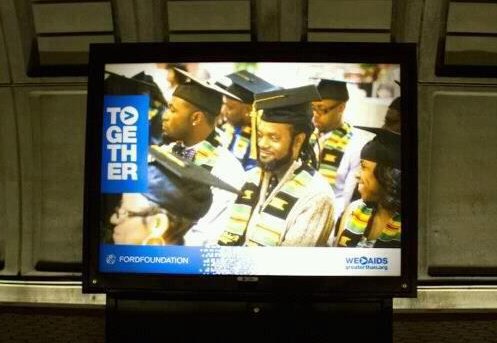 My African American HIV University graduation photo on display at the Convention Center Metro station.

Robert Newells is the founder of Healing Faith, the HIV prevention program of the Life Care Ministry at Imani Community Church in Oakland, Calif. Rob works intentionally with and through African-American faith communities to reduce stigma and provide culturally relevant HIV information to all Oakland residents.