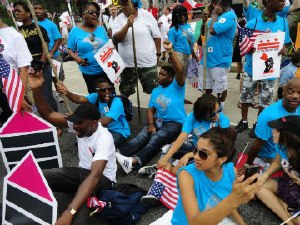 We need more Blacks out here on the front line. Credit: Candace Montague, D.C. HIV/AIDS Examiner.
We all know by now that the HIV infection rates among African-Americans in D.C. remain ridiculously high. And we know that the rates are so high they are actually on the same level as some sub-Saharan African countries. During the International AIDS Conference last week, I witnessed six brilliant examples of what the community can do with some planning and persistence. The March on Washington and The We Can End AIDS (WCEA) Mobilization, which included five marches converging into one, shut things down. But I noticed that there were many people who came to the march from out of town and they were not attending the conference. The question that came into my mind was, where are my D.C. people?
To be fair, it was because of the conference that the attendance was so elevated at these events and I did not take a count of who was from where but I dare to say that D.C. residents were probably outnumbered. And yet it's D.C. that has these high infection rates. And this is not the only time there was a march about AIDS in D.C. During my five years of covering AIDS marches in D.C., I've never seen anywhere near that number of African-Americans attend these marches. Yet this disease affects thousands of people in this area whether it's through medical care, housing, stigma, discrimination, or poverty. In a city where the residents that are hit the hardest by this disease live practically in the back yard of the United States Government, why aren't we fighting more. Where's the outrage that spills over into an act of civil disobedience on a larger scale? Nothing says solidarity and strength like a protest. It's a shame that we sometimes become so complacent and numb to this illness that we just leave the battle up to strangers and hope for the best. HIV in D.C. is not Margaret Cho's battle. It's not Wyclef Jean's battle. It's the battle of the infected and affected and although it makes you weary at times, you must fight on.
Let's look at the We Can End AIDS mobilization last Tuesday. It was more than a throng of angry activists and HIV positive people. It was a bold voice that spoke clearly of demands for how the country needs to address HIV/AIDS. They spoke out against corporate greed and monopolizing life-saving drugs. We don't have an ADAP waiting list in D.C. but healthcare in general is not at it's finest whether you're infected or not. They spoke out against discrimination and excessive prison sentences in the 'War on Drugs'. This frivolous 'war' has incarcerated thousands of African-Americans for drug crimes and too many D.C. residents to count. And when they return to the community, there's very little support to keep them healthy. They spoke out against discrimination against women and the LGBT community. Blacks in D.C. that know their history should know a thing or two about civil rights and discrimination. We need to be on the forefront of all of this not only because it will save our lives but it keeps us formidable.
Advertisement
One of the marches for the WCEA mobilization was the march to end the war on women. To me this march was the one that hit the closest to home. Seeing the HIV infection rates among poor, heterosexual African-American women in D.C. nearly double in last month's epidemiology report should have ignited a mass of folks to join in this march. African-American women do it all and then some but are still subjugated by poverty, violence, less pay for equal work and lack of options for care. Maybe we're too busy to pay attention to this fight. However, if there's was more of a voice and a stand against this treatment Black women wouldn't have to work so hard.
I know AIDS is not sexy. Health is not sexy. And it will probably never bring in the amount of people that a funeral for a beloved Go-Go music founder would bring. But it should. It's time to stop allowing other people to fight our battles. The face of HIV/AIDS is growing more and more brown everyday. It's great to have some help but we can put the pressure on policymakers to end the virus by looking for strength from within not outside the city limits. The next time there's a march or rally in D.C. against HIV/AIDS (ahem ... World AIDS Day is December 1st), get involved. Sign a petition. Volunteer to help or at least tell some community members that there are some dedicated allies right here in our back yard fighting for them. African-Americans have the tools to make it happen. And we always have. Let's lead the battle and be steadfast about fighting until we see victory for us.