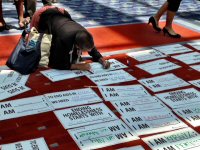 Photo by Lucile Scott.
The International AIDS Conference Global Village, a bustling land full of informative booths and global art and music, is not only the liveliest, most diverse part of the largely staid, commercially sponsored conference, it's the only part one can visit without an official badge -- which runs a hefty $475. It is also, therefore, the only part many attendees with HIV can afford to see of the IAC, excluding them from the conference sessions discussing issues that are, for them, critical and integral to their lives. To get there, to what some Villagers have dubbed "steerage," the badge-less must trek three blocks from the main entrance of the D.C. Convention Center -- a massive sparkling glass structure that spans several city blocks -- around a corner, through a small back door and down an escalator to the basement. However, today, a brave and mostly brazenly badge-free Village tribe lead by Housing Works decided they were bursting out of the basement. The rallying cry: "You can't end AIDS without people with AIDS."
"There's not enough money to be made putting us on the ground floor. So they'll just make money off of us," said Thomas Clodfelter, who has been HIV positive for 21 years, and received a grant from a California NGO to pay for his week long trip from Greensborough, North Carolina. The travel money, however, did not cover the steep price of official admission and he'd spent the first four days of the conference confined to the Global Village working at a community booth. "Corporate white collar America doesn't know what we go through everyday and I'm not going to stay separated so they don't have to see it here, " he said of his decision to hop on the escalator behind the We Can End AIDS banner-lead, bongo beating, cow bell ringing procession. When the undeterable trespassers reached security, where badges must be flashed to proceed, they just chanted louder and barged on through. The guards, looking on sympathetically, let them and the new Village delegates, wearing shorts and tee-shirts and yelling hard, victoriously merged into the buttoned up crowd.
Advertisement
In a parallel action to increase community visibility, Housing Works invited conference attendees from all walks and countries to fill out signs about their origin, identity and AIDS related needs and desires. The paper signs spread across the plushly carpeted main hall, forming what Housing Works' Larry Bryant called, "A quilt of humanity, not of those who have passed, but of people who are alive and at the conference and have needs." The ever-expanding paper quilt began at the threshold of the exhibition center, a space also featuring booths, but ones sponsored by companies able to pay a pretty penny for the first class real estate, often decked out with neon pharma signs and sleek furniture.
The exhibition center was also the first stop for the rogue villagers, who rallied there shouting that they deserved a spot in the featured hall, before storming the media center, which requires its own specialized badge. They chanted their demands to on-looking camera, before quieting to allow members of the UK's Stop AIDS Campaign, who had marched their way into the center shouting with irate Villagers, to perform a mock wedding between the European Union and Big Pharma -- complete with an Irish priest, a veiled bride and a grinning groom -- to protest the India Free Trade agreement, which would decimate the Indian supply of affordable generics currently saving millions in the developing world.
"Let's ensure that all conferences going forward change this practice and have meaningful inclusion of community in the exhibition hall, so that those corporations able to afford this booth space are with the people they serve," said Housing Works' Christine Campbell, about the discrepancy in the two centers, suggesting the International AIDS Society implement corporate partnerships with NGOs or a sliding scale system. Others called for scholarships for low income HIV positive people wishing to join the badge carrying delegates, pointing out that too tos few off the panelists and the audience members absorbing the information came from the most affected front lines. "I'm from the South and segregation and segregation of the classes is something we have to deal with. I always say HIV isn't the problem. It's a symptom of the problem," said Melva Florence, also from North Carolina, adding, "When I saw that other people had noticed it to I had to join this march.
After the unholy matrimony concluded, the marchers again joined forces with the free trade protestors and snaked back through the convention center, camera flashes still flying, and then dispersed. The action in the main hall, however, had just gotten under way, with activists fast-talking security into letting the installation remain. "We are bombarded with commercial posters and ads here at he conference,but there is very little human experience." said Bryant of the reason for the blanket of signs at his feet, "We don't know if the people writing are doctors, pharmaceutical reps or people with HIV. We just know they're human beings."
The handwritten sentiments, some scrawled, some in perfect curling penmanship, one in Arabic, stated origins from all over the world, including Suriname, Martinique, Alabama, China, Niger and Germany, to name a few. The signs provided varying messages with blanks to fill in, the most common being TO END AIDS IN . WE NEED, and I AM . I AM. The most often stated needs penned were funding and rights. And creative and moving answers abounded as the paper quilt stretched further and further, closing in on the main entrance. Highlights included: TO END AIDS in Mexican. WE NEED Balls., I AM AIDS. I AM A HUMAN., I AM Tahitian. I AM a child of the soil, and I AM Queer. I AM Beautiful. Nearly every passing, badged delegate slowed enough to take them in. Most paused. Hundreds or even, it seemed, thousands bent over and picked up a marker.