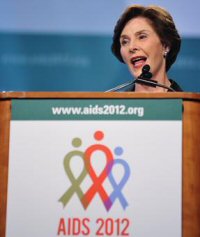 Photo courtesy of USA Today.
When former First Lady Laura Bush entered the International AIDS Conference's largest session room today as the keynote speaker at a special session titled Leadership in the AIDS Response for Women, I felt conflicting emotions for this woman, who I've known only as the softly poised, generally silent, presence flanking a President I, at the time, thought was a bumbling incarnation of all the world's ills, and having no idea how one could define her as a leader worthy of an international stage. However, I and many others had chosen to attend this particular session and to listen to her and her fellow panelists' message because of her high profile, which is, of course, quite a bit of leadership power in and of itself.
In the speech, she didn't tout condoms, she didn't mention sex work or drugs, but she did have genuine compassion that had sparked her to take meaningful action, and as she stood there, it seemed brave to me, for her to come here, to a place where her conservative husband -- despite founding PEPFAR (Presidential Fund for AIDS Relief), the largest fund ever dedicated to fighting one disease, and taking the initial steps to lift the HIV travel ban (which Obama finally finalized in late 2009) that made this conference possible -- is deservedly not recalled or referred to with fondness by most fighting AIDS. It also, inevitably, conjured comparisons in my mind to Hillary Clinton, Secretary of State, whose much more high profile speech at the opening session, unlike Bush's, included hardly a mention of her ex-Pres betrothed, but who also made fighting HIV in women the central focus of her comments. However, when she said it, it meant women would be a focus of national policy, making me think of all the roles and all the ways women do, can and must lead to end AIDS among us -- as we now claim 50% of people living with world wide and over 60% and climbing in Sub Saharan Africa, the focus of the session.
Advertisement
From the high profile global leaders like Clinton and Aung San Suu Kyi, the internationally known human rights activist and Nobel Laureate from Burma, who was recently elected to Parliament after spending 7 years under house arrest and who made a brief video address before Bush took the stage, to Bush, who is mostly thought of as someone's wife and who referred to her husband every few sentences, to all the wives, teachers, doctors and mothers who will never be invited to stand on a stage in front of a press corps, it takes every kind of woman using whatever her platform and power may be to turn many a tide fueling HIV in women -- including gender based violence, lack of education, lack of women controlled prevention services and funding and more. And she has, both as First Lady and now as the Chair of Women's Issues at the George W. Bush
Presidential Center
, dedicatedly fought to improve the lot of HIV positive women in the developing world, mostly by improving treatment access, and it seemed, by time to time providing hands on assistance in clinics.
"I met a child dressed like an angel in a lavender dress to meet the President of the United States," she said of a trip to Zambia with her husband before PEPFAR funds had made ARVs available there, which they soon did (at least for some). "She was very sick and frail and laying on a table and her mother's last hope was to make her beautiful. She could have been saved with ARVs," she said in an anecdote typical of her speech that took a very individual woman to woman, not factual, approach to discussing the issues.
The other women panelists talked more in concrete detail, spouting facts and eloquent rage, offering more frank talk about economic and other structural inequities that increase vulnerability to HIV and AIDS, including housing and female inheritance rights, than I'd heard in nearly any other session, and because of Mrs. Bush, a large crowd listened. Debrework Zewdie, Deputy General Manager of the Global Fund, outlined all the discrepancies in available HIV services between men and women, causing rates in women 15-24 to climb to twice those in young men in Sub Saharan Africa. She called this "the product of where we decided to invest money, time and efforts over the past 30 years. Women were not enough of a priority and the most vulnerable women paid the price for our decisions." Dr. Morolalze Odetoyinbo from Nigeria described the fight it has taken for her and many women to get an influential voice, "Women have come from being seen as trash to leaders and this was not handed to us on a silver platter." And of course that isn't the case for Mrs. Bush, but really, so what. In current Tea Party stained political atmosphere, her brand of conservatism seems a breath of fresh tea-free air, and as Dr. Odetoyinbo said in closing, "Where is our vagina pride? We must have self love. Vagina pride will end AIDS." So I'd just like to say, thank you Mrs. Bush for speaking today. I really admire everything you've done to fight AIDS.