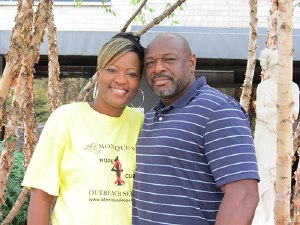 Monique Howell and her husband, Steven Moree, stand together in Washington, D.C. AFC photo: Gregory Trotter.
Two incriminating words branded the young Army clerk's honorable discharge paperwork.
Serious offense.
Monique Howell had not been found guilty of any crimes. But in May 2007, she was told she had 72 hours left in the United States military. Her discharge was considered honorable, but it certainly wasn't her choice. Indeed, she had planned to re-enlist. That would no longer be an option for her.
Howell had been charged with aggravated assault, a felony charge in military law for not disclosing her HIV-positive status before having unprotected sex with another soldier. After five months in court, the charges were dropped. But those two words would stay on her paperwork. For Howell, then a 26-year-old mother of three young children, the damage had been done.
"It made me feel like a criminal," said Howell, 31, of Summerville, S.C. "I could be nice one minute and about to kill myself the next."
Compared to some, Howell was lucky. Hundreds of Americans have been arraigned on charges of alleged nondisclosure of HIV statues or transmission of HIV and many have served time in jail -- most often in cases where HIV was not transmitted, experts say. Though laws vary by state, there are currently 33 states that criminalize HIV exposure, according to the Centers for Disease Control and Prevention.
HIV advocates and legal experts are trying to get these laws off the books, saying they do far more harm than good. The laws deliberately discriminate against a specific group of people, they lead to innocent people serving jail time, and are often based on an outdated understanding of how HIV is transmitted, said Sean Strub, director of the Sero Project, a nonprofit dedicated to ending such criminal prosecutions.
"These prosecutions are driving the epidemic," said Strub, interviewed at the International AIDS Conference in Washington, D.C., on Wednesday. "Everyone talks about stigma this, stigma that. What creates more stigma than the government enforcing laws that discriminate against one specific group of people?"
Howell did not know it was against the law to not disclose her HIV status, she said. A higher-ranking staff sergeant had paid her a visit at her house on the Army base in Fort Jackson, South Carolina.
One thing led to another. She asked him to wear a condom. The staff sergeant, charming and persistent, declined to do so, she said. Eventually, she relented, and they engaged in unprotected sex.
"I didn't know the laws, but I knew what I did was wrong," Howell said.
It's unclear how the staff sergeant became aware of her HIV-status, but Howell suspects he was told by other supervising officers to whom she had disclosed. She was soon thereafter called at her parents' house and ordered to report to the military police. She was facing 8-12 years in prison.
Advertisement
Take the Test, Risk Arrest
You've seen the stories. The AIDS monster, the HIV predator, sits impassively in court as the television gravely explains the heinousness of the alleged crimes.
But legal experts and advocates in the HIV/AIDS field are banding together to repeal criminalization laws because they say such laws, conceived to stop the spread of HIV, are actually worsening the epidemic. For the first time, there is a coordinated national effort, called the Positive Justice Project, to stop HIV criminalization.
A look at some of the data is illuminating. Thirty-three states have HIV-specific statutes to cover behaviors such as sex, spitting, biting, needle sharing, organ/blood/semen donation and prostitution, according to the CDC, but HIV-positive people are prosecuted with felony charges -- such as aggravated assault -- in states, or under federal law, where there are no HIV-specific statutes.
Some of the laws are plainly archaic. Despite the fact that the risk of transmitting HIV through spitting and biting is virtually nil -- or negligible, according to the CDC -- 12 states and territories have HIV-specific spitting and biting laws, according to data compiled by the The Center for HIV Law & Policy.
(The law in Illinois was recently amended to not include biting or spitting, among other changes. Click here to read how the AIDS Foundation of Chicago recently led efforts to amend the law in Illinois.)
Actual transmission of HIV is rarely a factor in prosecutions, said Scott Schoettes, HIV project director for Lambda Legal.
"Overall these laws are ineffective because the criminal law is far too blunt of an instrument to deal with the variety, complexity and nuances of sexual relations between two consenting adults," Schoettes said in an email. "People's lives, emotions, and motivations are complicated; intimate relationships are complex and sometimes messy; and the "mating dance" in which we engage takes place on multiple levels, through a wide variety of verbal and non-verbal cues."
(Read a full Q&A with Schoettes on HIV criminalization laws.)
Comment by: michelle
(hawaii) Sun., Oct. 14, 2012 at 4:01 pm UTC
This story is this very reason why we need stiffer penalties for people that are knowingly HIV positive. Far too many are irresponsible, selfish, bitter, and or cruel. I do sympathize with all infected with this horible disease for many reason but regardless you literaly have a larger than life responsibility. The harsh reality is, when a knowingly HIV positive person decides he wants to have sex -verses- an un infected person (unassuming or unaware). The scenario changes from two people having sex -to- one person being unknowingly been victumized by way of posibly becoming HIV infected. Further if he becomes infected relitively soon after, continues in the way of unprotected sex and infecting others whom will also infect others. In the event that you are honest and respondsible, this person may continue to have sex but rather than refuse protection, this may become a vital practice because you have educated someone with your very life "the treat is real" You have the ability to save lives! You also have the ability to cause mothers to give birth to infected babies, children to be orphaned when infected parents pass on, the loss of daughters, sons, aunts and uncles, grand parents. If you are infected it is your responsibility to inform anyone whom you pose a risk too rather or not their are legal ramalfications after all, wouldn't you had rather to be warned if you weren't and if you were warned? Don't you have a clearer understanding of the cruelness of the disease? Would you want your grand parents, parents, children, nieces, nephews, cousins, aunts, uncles, or anyone you loved dearly to suffer with HIV or AIDS because someone infected them with out them even knowing it? Their no excuse for not informing others that you are HIV positive and if you dont you are potentiating a deadly assult on a multitude of innocent people.