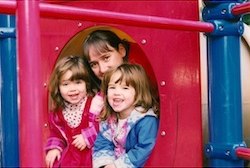 Sarah and Sophia Denison-Johnson with their mom Rebecca Denison.
Welcome friends, family and strangers. Our names are Sarah and Sophia Denison-Johnston and this is a documentation of our experiences and thoughts throughout the International AIDS Conference 2012 in Washington D.C.
Now, you may be wondering: "Who are these people and why would I want to read about them?" Well, I don't know whether you will want to read about us or not, but let me tell a story that not only belongs to us, but also our family, and the rest of the AIDS community about why we are here today.
The International AIDS Conference was last in the United States 22 years ago in San Francisco two days after my mother, Rebecca Denison, was diagnosed with HIV. She has since figured out she was infected in 1983, so she has been living with HIV for 29 years.
There was little known about HIV except that it was considered a death sentence. My mother's friend's sister was in the end stages of dying due to this disease, so of course, she thought the same fate was awaiting her.
Thinking she had only a few months to live (a couple years if she was lucky) she started an organization with the help of her husband, Daniel Johnston, called WORLD (Women Organized to Respond to Life-threatening Diseases) to help other women living with HIV/AIDS. Their slogan, "You are not alone!", was the foundation of their ideology. The organization grew over time, published newsletters, shared information and formed a diverse and loving community.
Advertisement
One thing that my mother could not overcome mentally was the fact that she could not have children. At that time, the mother-child transmission probability was too high for her to have a healthy, safe child. Luckily, she had the good fortune of being a patient of the late Dr. Claire, a marvelous doctor who told her that scientists had found that HIV drugs could dramatically reduce the risk of a baby being born HIV-infected. In addition, there was a study underway to test a drug (Nevirapine) that would briefly bring down the HIV count even further, so that there was a very good chance (though not a guarantee) that she could safely deliver an HIV negative child. My mother jumped on this opportunity and volunteered to be in the trial for this new drug. It worked. In 1996 we were born HIV negative, and scientists went on to test Nevirapine in Uganda where it cut HIV infections in newborns in half for only $4 per delivery.
Our mom has since left WORLD, but having been such a major part of that community, she has stayed in touch. She made numerous friends, some whom have passed, many who have gone on to save hundreds of lives. All of our lives, Sophie and I have been surrounded by these loving people and smiling faces.
Maybe it is obvious now why we would want to go to the International AIDS Conference 2012, but allow me to delve deeper.
This year WORLD celebrated their 20th anniversary. Our family went to the celebration and, just like at every other AIDS event that we went to, we were told at least 50 times that they "knew you when you were THIS big!" (showing with hands about one foot apart). There were hugs from every direction. Everyone asked if we remembered them. Our general response was a polite smile, because we usually had no clue who they were, seeing as how the last time we met we were about two years old. This was all pretty normal for us as AIDS events go. But something was different this time. Women came up to us crying, telling us we were their hope in life, we were their inspiration to continue living. One woman came up to us, confessing that she had been diagnosed positively and she hadn't told her child, and she came pleading for help and support.
Sophie and I were a bit shocked to realize that we are actually rather important to many of these women as a symbol of what is possible. I felt a little bit guilty. I didn't decide to be born, I had done nothing to help these women except smile and be polite. I was glad that I had inspired them, but I didn't feel like I deserved that. I felt like I had to do something, to get more involved. For a community that loved me so much, I did not know much about them.
This is why we are here at the International AIDS Conference in Washington D.C. We are here to attend workshops on how to be a youth activist, learn more about the challenges that positive people face and also learn more about the solutions. Hopefully I can bring some of the things I learn here in D.C. back with me to Berkeley, California. I am inspired by the passion of these amazing, strong men and women and I am honored to be with them this week. I hope to spread their goal of ending the epidemic wherever I go.
Read Sophia Denison-Johnson's account of the first event that she and her sister, Sarah, attended at AIDS 2012.