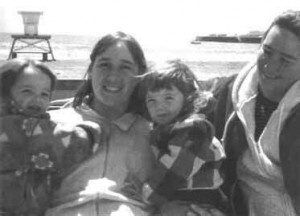 Sarah and Sophia Denison-Johnson with their mom Rebecca Denison.
The first event we attended was the Opening Session on Sunday night. Like many other delegates, we arrived just barely in time for the session and had to sit in an overflow hall because the main hall was full, which meant that we saw the whole session on two big screens in front of the room. The Native American blessing wasn't quite the same through a screen, but we used our imagination (while the Aztec blessing ceremonies we're familiar from California are different, there were some similar elements). Before the speakers began the Gay Mens' Chorus of Washington D.C. sang "I'll Be There". Their voices quite literally gave both of us chills (we're sure it was the incredible beauty of their voices and not just the air conditioning in the building). Parts of the session were very moving and the different speakers talked a lot about this year's theme, Turning the Tide Together. We were especially excited to see congresswoman Barbara Lee (from our Alameda County in California) speak -- we are so proud to be represented by such an inspirational leader and activist.
It has been repeated again and again and will continue to be repeated -- we now have the tools to end AIDS! What we need is economic and political will. I'm sure this will continue to be a motto of the AIDS movement until we have an AIDS-free generation.
One of the men who spoke at this ceremony was Michel Sidibe, director of UNAIDS (United Nations AIDS Programme). As it turns out, on his trip around the United States to discover the direct affect of AIDS in communities, Sidibe stopped in San Francisco and met with our mom, Rebecca Denison. Our mom told us how Sidibe had reacted to hearing her story and how sweet he was. Lucky for us, we got to see that for ourselves! After the session ended, we rushed up to the front of the room to find Michel Sidibe in a crowd of esteemed guests and world leaders. I could tell that he recognized us from pictures our mother had shown him the day they met. "Do you remember Rebecca Denison?" I asked.
Advertisement
"Of course!" he replied with a cheery grin on his face. He gave us each a big hug! During his portion of the session, he brought a mother and daughter from Nigeria. The mother was positive and the daughter was negative and everything they had to say was really relatable to the both of us. To summarize what they said, and we agree with, we are so thankful for the funding and science that has allowed mothers to give birth to negative children (such as Sarah and I). However, if we've had the technology to prevent children being born with HIV, why are there still children born positive? We can't stop now! We can make it so no child is born with HIV and no child is orphaned because of AIDS/HIV.
One question is still resonating within both of us. This is an INTERNATIONAL AIDS Conference. While we are aware that the U.S. is the most supportive and involved country, in our opinion, there was too much U.S. policy in discussion at this session. We wonder what they say at these sessions when they are held in other countries. I can't imagine they spend so much time on only one country. It was great to know about the different policies and how the AIDS support has been a bipartisan effort, but I felt less and less like the session was binding together all the different countries that are being represented at this conference.
The International AIDS Conference should be a place where everyone, no matter where you are from can come together and become a force that is held together by community and diversity to take a stand in the AIDS effort. I would think that the American Melting Pot should be good at joining forces with the people of the world. I sure am excited to!
Read Sarah Denison-Johnson's account of why she and her sister, Sophia, attended AIDS 2012.