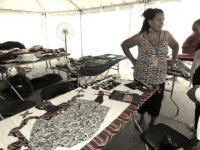 Seeing the virus up close gives this quilter better vision. Credits: DC HIV/AIDS Examiner.
Inside the AIDS Quilt -- making tent on the National Mall, there's a quiet spirited African-American woman with an amazing creative side. You can tell from the first few sentences she softly utters that she is a mother. And a caring one at that. She peacefully works on a quilt for a fallen angel from Chicago who loved shopping and music. I asked her if she thought of the idea for this quilt square. She humbly replied "his spirit told me what to do here". Her name is Ms. Michelle and she hails from Seattle. Her son works on Capitol Hill with one of the members of Congress. She came at his request to lend a hand and maybe some of her matronly love to the quilt. She expressed her dismay that out of 54 miles of quilt squares, only one half a mile is dedicated to African Americans.
I asked her thoughts on being a quilter for the AIDS quilt.
I'm just a volunteer here. But when I found out that only a half a mile out of 54 to 55 miles of the quilt are for African-Americans we thought it was ridiculous. A lot of people don't know about it because of the stigma. I had a cousin that died at the beginning of the epidemic. Nobody knew about him being gay. Nobody knew where he was when he was sick. He went into the hospital under an assumed name. He didn't want anyone to know he was dying from this. His partner called my grandmother and told her "somebody needs to come. He's all alone." I flew down to San Fransisco and I stayed in the hospital with him for a week. He didn't want me to touch him because he was afraid. He was the cousin that everybody loved. But in my time there I saw him pull IV needles out and he had lost a lot of weight. During my time there I was called into hospital rooms to witness the signing of wills because the parents and the family didn't want to come. I braided people's hair because nobody wanted to touch them. It was one of the most powerful weeks of my life. I feel like God has led me here. I haven't started working on my cousin's panel yet. I started working on other people's panels. After I finish this one, I'm gonna work on his.
If no one else thanks you for all your work Ms. Michelle, I do.
(Please note: Your name and comment will be public, and may even show up in
Internet search results. Be careful when providing personal information! Before
adding your comment, please
read TheBody.com's Comment Policy
.)