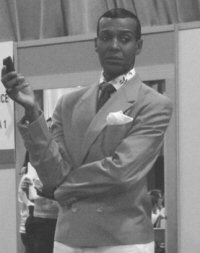 Dwight Eubanks, reality tv star, says we don't talk about HIV enough. Credits: DC HIV/AIDS Examiner.
Dwight Eubanks, television star from the famous (or infamous for some people) reality show The Real Housewives of Atlanta, is in DC this week for a fashion show at the International AIDS Conference. The self-proclaimed style purveyor is the owner of the Purple Door Salon in Atlanta and is known for his quick wit and forthright commentary on everything from fashion to lifestyles. He's a diva if I've ever seen one. As he prepared for his show at the Carnegie Library with Sheryl Lee Ralph, Dwight shared some 'reality' on what it's going to take to get the HIV rates down.
I've been an advocate for HIV/AIDS for 30 years. We need to have more of these kinds of events to keep the dialogue going in the community. We don't talk enough about AIDS. Our churches don't talk about it and that's the one place that the Black community goes to. Parents are not talking about it in the homes. And the schools don't talk about it. We're not comfortable with our own sexuality and until that happens we can't begin the conversation. And we have to stop acting like our kids are not having sex. They are. These sort of conferences need to happen more frequently. Not every two years but every six months. We have to go to all communities and talk about it not just targeted groups.
He went on to say...
I walked by the information desk and there was gobs and gobs of information. Why don't we have that in the schools? Why don't we have it on the local level? Nobody wants to talk about sex but everybody's [expletive]. There are two things that we're gonna do. We're gonna get some alcohol and and we're going to have some sex. Ya know grandma is [expletive] that's how you got here. Let's face it. Even senior citizen homes are having trouble with STDs. We are all doing it. But until we talk about it we won't be able to solve the problem.
Enough said.
(Please note: Your name and comment will be public, and may even show up in
Internet search results. Be careful when providing personal information! Before
adding your comment, please
read TheBody.com's Comment Policy
.)