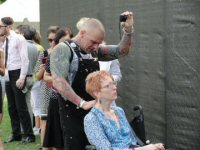 One Tough Pirate has one big heart. Credits: DC HIV/AIDS Examiner.
At the AIDS Quilt Ceremony on Tuesday, a muscular, tattooed man quietly pushed a wheelchair with a thin, red-haired woman in it close to the stage. They slipped into the small crowd and focused squarely on the stage. As the names were being read, this tough-looking man -- whom many would assume was a biker at first blush -- began to weep. He struggled to maintain his composure, but broke down several times throughout the ceremony. I spoke with him and the woman he was escorting later on. His name was Bob Bowers, also known as One Tough Pirate. It turns out he's an activist for youth with HIV. He was infected at age 19 from sharing needles with his girlfriend. Now he speaks up and out for people like himself who are living with HIV. He and his wife traveled here from Madison, Wisconsin to be at this ceremony. I asked him who he was crying for specifically. He gave me an earful of a story.
This has been more like a pilgrimage than a journey. We charged this whole trip. We risked everything to be here for our friends. We were asked by Poz Magazine to be a 'General' or an advocate for the cure. Out of 34 million that need meds only 6 million get them. My wife has ALS (Lou Gehrig's disease) and there are no meds for her. We have 34 available medications to treat HIV. I actually got depressed fighting the 'man,' the politics, the machine. I have the red ribbon tattooed on my stomach for the dozens of friends I've lost. The ones I've lost recently died from side effects to the medications. I watched my friends die from AZT.
He adds...
My wife and I are a serodiscordant couple (she's HIV negative). We've been married for eight years. That kind of thing expands people's thinking. I get letters on my site from clinicians, executive directors of ASOs (AIDS Service Organizations), who have all these smarts. I don't that (have these smarts). I'm just a humble person living with HIV who used to be a victim. But I'm not a [expletive] victim anymore. Now I'm empowered. I think about the kids living with HIV. Kids today are dealing with so much. They're dealing with violence and gangs. They're being called [racial slur] and [homosexual slur]. We never address these core issues. It's no wonder AIDS is running through the community. If we treated people like brothers and sisters instead of like maggots and [homosexual slur], we'd get somewhere.
Find out more about One Tough Pirate by clicking here.
Comment by: Beratungsstelle
(Germany) Wed., Aug. 8, 2012 at 10:27 am UTC
Is there any way to make this text readable for non-english readers?
Example given: does " They're being called [racial slur] and [homosexual slur]."
mean, that the speaker used a vilification name for homosexuals and ?racials? ?
Confused
in Europe
(Please note: Your name and comment will be public, and may even show up in
Internet search results. Be careful when providing personal information! Before
adding your comment, please
read TheBody.com's Comment Policy
.)