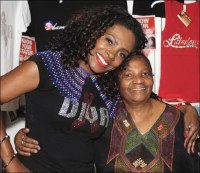 Sheryl Lee Ralph and Nomantshali Mtshali
Activists and organizations the world over dedicate themselves daily to the fight against HIV/AIDS. Here's what we can learn from our international allies.
Mphonile Co.
Actress/activist Sheryl Lee Ralph lends her celebrity to help Mphonile empower rural women and orphaned and vulnerable children and help them achieve financial stability. Participants learn skills such as how to produce handmade crafts and jewelry and plant crops, building their business abilities while improving their access to food. They also sell Ralph's signature "diva" tee-shirts, earning additional revenue.
What We Can Learn: Micro financing and collaborating don't happen enough in African-American communities. "Partnership is very important in the efforts to end HIV/AIDS," said craftmaker and business owner Nomantshali Mtshali. "We must work together to make a difference."
U-TENA: Arts and Education Society
U-TENA educates people throughout Kenya about reproductive and sexual health. Its Kuza Project teaches life skills to low-income girls ages 10-17, such as how to make healthy sexual decisions. At a neighborhood youth center, U-TENA has created a safe space that helps economically impoverished young people obtain health education and recreation at the same place. A theater project teaches audiences the truth about HIV/AIDS. "It is important to encourage youth to express themselves through art and creativity so that they can build confidence and skill," says Chacha Musuya, creative art development manager.
What We Can Learn: How to use a variety of methods to make health and sexual education fun. The arts can help enliven life skills and comfortable environments not only encourage free expression but open young minds and ears.
Lakin Starling is a senior at Spelman College in Atlanta and an aspiring journalist.
(Please note: Your name and comment will be public, and may even show up in
Internet search results. Be careful when providing personal information! Before
adding your comment, please
read TheBody.com's Comment Policy
.)