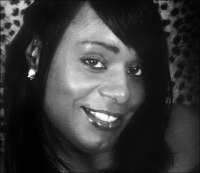 Debbie McMillan
I'm a 42-year-old transgender woman. I've been this way since before I heard the word transgender; I've always felt like a woman trapped in a male's body. I am also a former sex worker and substance abuser. I was bullied and assaulted, although also embraced by certain people because of how I presented myself.
One of the most devastating experiences I've had was the rejection by my father when I was 14. He didn't understand or accept who I was and the response was no communication for seven years. That was the lowest period in my life. I became sexually promiscuous. I was infected with my first STD, drug use started, commercial sex work started, everything started during those years. And I was in my first year of high school.
A lot of it was because I wanted acceptance from male figures. I believed that if they weren't interested in me sexually then they would reject me. It was either I hate you or I'm gonna have sex with you. It wasn't until I got older that I was able to befriend men and not have a sexual relationship with them.
By age 21, I was living full-time as a woman, but I didn't come into my own until I was 35. That's when realized that I needed to make some changes. It took me two years to work through the mess in my life; two more years to stop using drugs and eventually stop the commercial sex work.
Counseling was an important part of that transition. Having an outlet to talk about how I feel and the challenges I face has been an integral part in maintaining my sobriety. In fact Transgender Health Empowerment -- the only organization that focuses on the needs of the African American transgender-women population and where I now work as a CRS specialist and wellness center coordinator -- was one of the places I sought counseling.
A lot of people don't have experience with dealing with the transgender population unless they're transgender, which is why I started volunteering at HIPS (Helping Individual Prostitutes Survive) and then became a client advocate, responding to crisis situations and working with commercial sex workers in the criminal-justice system.
Advertisement
At Transgender Health Empowerment, I help individuals who are at high risk for infection/transmission of HIV and other STDs to develop individual prevention plans, and with counseling and medical and social services.
Many transgender women are young when they make their transition and lack education and job skills. This is especially true if they're African American. I've worked with Caucasian transgender women also and the majority of them are not engaged in commercial sex work. Most Caucasian transgender women are not transitioning at 17, 18, 19, 20. They're finishing school, getting degrees and they're well set in their careers before they transition.
In general transgender women face malice, discrimination and stigma. Some of us have integrated into society and live normal lives as women, but some people need to understand us better. I think with understanding comes a lack of fear so that they can get to know a person and can address their needs.
A lot of women in the transgender community are HIV positive but not identified because the data wasn't being collected to assess the needs of this population. Even CDC includes transgender women with men who have sex with men. But that's a different population. Some transgender women don't identify as heterosexual women and they don't have sex with men who have sex with men.
At the AIDS International Conference I plan to meet new people and get as many resources as possible for the transgender community. I want to inform people about commercial sex workers, drug use and transgender women. I'm happy to represent these populations and am grateful for the opportunity to speak on an international level.
As told to April Eugene, a Philadelphia-based writer.