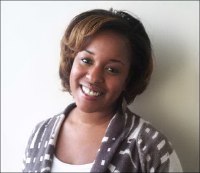 Adina Ellis
One in a series about Black Americans engaged in leadership roles for the 2012 International AIDS Conference (AIDS 2012)
Adina Ellis has more than fourteen years of diverse experience in public and media relations, event management and business development. Here, this manager of U.S. communications and public affairs for the International AIDS Conference discusses her role and what she most looks forward to about the conference.
What does it mean to be manager of the U.S. communications team?
Many different stakeholders are interested in this conference. The U.S. has over 350 media markets and it's important that we have a strong media plan and strategy implementation.
What has being in this role meant to you as a woman of color?
My involvement has been important to me because I've been personally affected by the disease. I've lived in New York and spent many years in sub-Saharan Africa countries when I was growing up. I've seen up close how this disease impacts communities. So it's important not just from a professional standpoint but also from a personal standpoint.
Advertisement
What about the conference excites you the most?
I'm excited to see that a conference of this magnitude, that is so important to so many people around the world, is coming to D.C. I'm extremely excited to see the spotlight being placed on HIV/AIDS at this time. People who work in HIV/AIDS tend to forget that it's something that's not spoken about every day. But from July 22nd to July 27th, it has a huge spotlight and the world is watching to see what gets done.
Now that the conference is finally being held in the United States, what new possibilities does it present for Americans?
People in this country now have the opportunity to experience the conference. The United States has been on the forefront of this virus for many years and many of the bilateral organizations are based here. AIDS 2012 will provide a platform for people to get involved, especially on the local level, and to take information back to their own organizations.
Why do you think it's important that Black Americans attend?
There are things that Black Americans still need to educate ourselves about as it relates to AIDS because so many of us are misinformed. Black Americans need to get tested, know our own status. It will be very difficult to make strides and get people in treatment if stigma is not addressed. We need to get our faith-based community involved and ensure that our community leaders help get the message out. We have to stop looking at HIV/AIDS like it's someone else's problem. We're all in this together.
Candace Y.A. Montague is the D.C. HIV/AIDS examiner for Examiner.com. She also writes for The Body, emPower Magazine and Capital Community News.