Mark S. King is video blogging all week from the XIX International AIDS Conference (AIDS 2012) in Washington, D.C.! Tune in as Mark reports on the conference from his unique, moving, often hilarious perspective.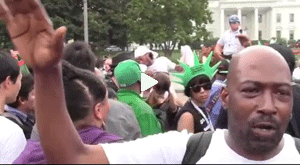 July 25: The March on Washington
At the March to End AIDS, Mark captured the sights, sounds and stories of the protest. "Maybe it was the emotions of the event -- anger, nervousness, pride -- but it was an exhausting day. I felt the residue of grief for lost friends in a way I haven't experienced in years."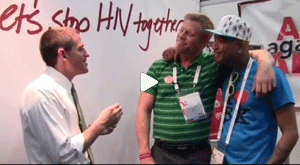 July 24: Singers, Stigma and Subways
As the conference hits its stride, Mark critiques fashion with designer Jack Mackenroth, starts a YouTube rivalry with singer Jamar Rogers, and has an interesting experience in the D.C. subway.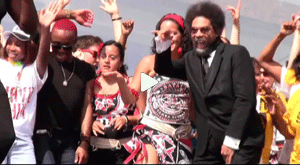 July 23: Day One at the International AIDS Conference
On the first official day of AIDS2012, the schedule is light but the party is rolling, with an outdoor concert steps away from the AIDS quilt, dancing dignitaries, and a somewhat surprise ending!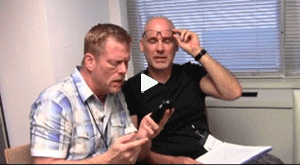 July 22: "Gay Day" at AIDS 2012 in Washington, D.C.
Less than 5 percent of the programming for AIDS 2012 targets gay men. A special, one-day pre-conference tried to make up for that lost ground.
Khafre Abif: "Call My Name" -- African Americans and the AIDS Memorial Quilt

"Right now there are not enough [AIDS Memorial Quilt panels] made by and for the African-American community to meet the demand for the request for their display. ... Without your stories, the Quilt cannot do its job of opening hearts and minds and saving lives."



Rae Lewis-Thornton: In Search of My Whole Self
"As time went on, I began to feel lost. Like I was missing ... yes that's it, I was missing. I had given so much value to one thing, I lost the rest of me. I started to not like the parts that were adjoined to me and that took me searching for something I could like, something I could be proud of."



Bob Leahy: Risky Talk
"Do people with HIV have an attitude toward risk-taking that sets us apart from our negative brothers and sisters? It's kind of an impolite thought, so we seldom go there. But surely it's a proposition worth looking into."
Seer Clearly (From San Jose, Calif.) on "Implausible Deniability: Sex and Self-Deception Among HIV-Negative Men"

"This is one reason why I have always found poz guys to be more interesting and attractive than negative ones: many have a great deal of self-awareness on board that comes from facing death (or the fear of it, actually) and coming to peace with it. That's not to say that there aren't negative men out there who are self-aware. They just have precious little incentive to face their demons and own them, unless they're on a deep and committed spiritual path."

Read the rest of this comment and join the discussion on this article!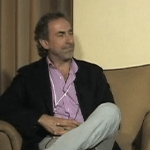 Jacob Lalezari: In HIV/AIDS, "Cure Is a Four-Letter Word" (Video)

Jacob P. Lalezari, M.D., talks with IFARA about the coupled optimism and cautiousness regarding the search for an HIV cure. He explains each of the primary paths currently being explored toward the development of a cure and describes the progress we've made -- as well as the challenges we still face.




Study Finds Black MSM Less Likely to Be on HIV Treatment and Virally Suppressed
Among those receiving HIV care, white men who have sex with men (MSM) were more likely to be on antiretroviral therapy than black MSM (91 percent vs. 80 percent), and more likely to have a viral load below 200 (83 percent vs. 69 percent).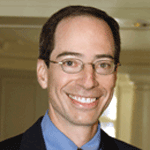 IAS-USA HIV Guidelines Updated
"With the International AIDS Conference in Washington just starting, the International Antiviral (ahem) Society-USA has revised its HIV treatment guidelines, updating the 2010 version," Paul Sax, M.D., reports. Among the highlights are a more aggressive approach to starting treatment and changes to recommended regimens.


More Headlines on HIV Treatment & Health Issues:

"It should come as no surprise that I have been talking about you behind your back. ... I have got all the dirt on you, HIV. And I have gotten exceedingly good at telling it." -- Bryan Collins

Read more of Bryan's letter to HIV and browse through many more of our readers' submissions to the "Write a Letter to HIV" campaign started by blogger Justin B. Terry-Smith! We'd love to see you submit your own letter!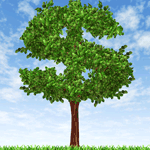 U.S. Health Dept. Announces $80 Million in Emergency Funds to Eliminate ADAP Waiting Lists, Expand Domestic HIV Care

U.S. health secretary Kathleen Sebelius announced a new influx of funding for HIV care access inside the U.S. -- including $69 million in ADAP funds that the health department expects will eliminate all current waiting lists.



Thousands Take to Streets in D.C. for "We Can End AIDS" Mobilization
About 8,000 HIV activists and supporters around the world marched through the streets of Washington, D.C., in the We Can End AIDS mobilization, the largest HIV/AIDS protest on U.S. soil in many years.



The "Washington, D.C., Declaration": Taking a Stand for an AIDS-Free Future
"This morning, I took a personal step toward ending the HIV/AIDS epidemic," Lakin Starling writes for Black AIDS Institute. "I signed The Washington D.C. Declaration, a petition to raise awareness about the great opportunity we have right now to end the epidemic."



Elton John and Phill Wilson Call for Public HIV Status Disclosures Worldwide
In the opening hours of AIDS 2012, singer and AIDS activist Elton John joined Phill Wilson, head of the Black AIDS Institute, to call for people with HIV worldwide to disclose their status publicly, in an effort to communally fight stigma and misperceptions about life with HIV.


More HIV News & Policy Headlines:

How We Prevent the Increasing Rate of HIV Infections
(A recent post from the "Living With HIV" board)

"I sometimes think that if I ever spoke to a group of young people on how to prevent HIV, what angle would I take or how would I present it? And I've come to the conclusion that, of course, I would say, "Always practice safe sex," blah, blah, blah. ... [But] I think [due to] the fact that HIV is increasing, and people know they should be practicing safe sex and using clean needles, then just saying that isn't working. My thoughts are you have to go beyond that. I think the core of the problem is people aren't being loved properly by family, friends, significant others, society, etc. Now, that may sound cheesy, but I do think that could be some of the problem."

-- PeaceandLove

Click here to join this discussion, or to start your own!

To do this, you'll need to register with TheBody.com's bulletin boards if you're a new user. Registration is quick and anonymous (all you need is an email address) -- click here to get started!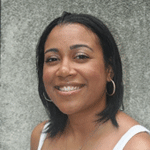 Notes on a Conference: Catching Up; Women and HIV; and Thoughts on the Opening Ceremony

In her regular recaps from the International AIDS Conference, news editor Kellee Terrell comments on some of the big speeches given at the conference: "This mainstream, lofty rhetoric should only really exist if progressive, radical change is ushering it. So, in other words: Don't talk about it, be about it."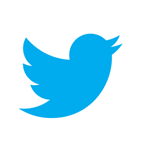 AIDS 2012 Twitter Buzz: So Many Marches, So Many Reasons
The International AIDS Conference is in full swing, and that means so is its presence on Twitter. In fact, more than 40,000 tweets were tagged #AIDS2012 in the first three days of the conference. Here are a few of the many topics (and tweeted photos) that caught the eye of our site manager Becky Allen.



The End of AIDS Predicted, "If ..."
"A triumvirate of leading anti-HIV campaigners agreed Monday that the AIDS epidemic can be wiped out in this generation -- if there is an adequate investment of funds and other resources," Black AIDS Institute reports.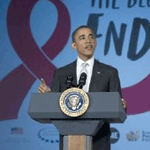 Why President Obama's AIDS 2012 Absence Is Not a Cause for Outrage
"One could conceive this truancy of sorts as a slap in the face," HIV/AIDS advocate Candace Y.A. Montague writes. However, "President Obama may be absent for the conference, but his presence will definitely be felt based on his video appearance and his record of accomplishments."



More Opinions & Perspectives:

Detail from:
"Underwater Boy," 1998
Luis Carle

Visit the July 2012 Visual AIDS Web Gallery to view our latest collection of art by HIV-positive artists! This month's gallery, "Overnight Wave (For Arthur)," is curated by Rick Herron.


HIV/STD TRANSMISSION & EDUCATION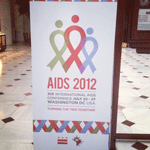 New Study Finds Greatly Elevated HIV Infection Rates Among Young Black Gay and Bisexual Men in the U.S.

Black men who have sex with men in the U.S. are becoming infected with HIV at a rate of 2.8 percent per year, a rate comparable to some developing countries, the HIV Prevention Trials Network reports. Among MSM 30 and younger, the rate was found to be far higher.



Lisa Fitzpatrick: Routine Testing for HIV Needed (Video)
Lisa Fitzpatrick, M.D., M.P.H., the medical director of infectious diseases at a Washington, D.C., area medical center, is not at all pleased with the way our country tests people for HIV or links HIV-positive people to the care they need.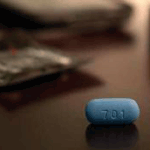 PrEP'ing: Are You Ready? Doctors, Advocates Gear Up for a New HIV Prevention Reality
"Love it or hate it, it's coming: HIV prevention with the use of one pill, taken once a day," reports Enid Vázquez for Positively Aware. She goes in-depth on the various issues and obstacles the community faces as it prepares to roll out Truvada as the first-ever HIV pre-exposure prophylaxis (PrEP) option.


More HIV/STD Transmission & Education Headlines: