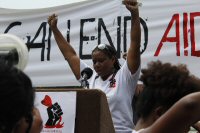 Photo by Boyuan Goa.
Friday, after a swarm of news crews captures Bill Clinton's remarks ushering out the International AIDS Conference and the national spot light on AIDS vanishes along with the 25,000 delegates, D.C. will still be facing the fight against the nation's worst HIV epidemic, with a citywide rate of 2.7%. Today, at an IAC press conference, the D.C. Community Coalition -- a new group founded by D.C.-ites living with and affected by HIV -- debriefed international attendees and media about their push to get the city to step up and release a comprehensive, concrete AIDS fighting plan (modeled on the National HIV/AIDS Strategy released in 2010) and to give the community representatives on the front lines of the city's epidemic, who actually understand the most affected populations and their needs, a meaningful voice in developing those strategies. D.C. has made tremendous progress in recent years in getting people tested and linking them to care, and while those are an essential foundation to any meaningful HIV response, and a startling and laudable advance over the situation in the city just five years ago, it is only the beginning of what the city needs to do to get ahead of its epidemic. "Right now the city has several plans to address HIV and AIDS but they don't work together," said Christine Campbell, Housing Works VP and Co-Chair of the D.C. Coalition, explaining that the departments of health, education, labor, housing and criminal justice need to integrate their approaches and improve their policies to actually reduce new infections, not just chronicle them, and get people to not just access, but stay in the treatment they need.
Currently, over 1,000 people with AIDS are on a wait list to get housing, and the city council and Mayor Gray have stonewalled requests to address the problem, while still trying to claim a firm commitment to fighting HIV, though study after study shows that without a roof people are more likely to engage in risky behavior and less likely to stay in treatment. Ron Simmons, head of the D.C. org Us Helping Us, discussed how the city needs a community voice to understand how to reach D.C.'s black MSM, who while reporting that they use condoms 50% more often than white or Latino MSM, have HIV infection rates that are 3 times as high. "It's a perfect storm among black gay men and 'use condoms' is not the message since they are using them more than anyone," he said. "The focus can't just be behavioral change, it has to be structural."
Advertisement
The Women's Collective's Tinselyn Simms-Hall, speaking about the recent
data
showing HIV rates have skyrocketed in D.C.'s low income black women to 12%, had similar thoughts about the city's narrow response that only focuses on testing and linkage to care and does nothing to address issues like gender based violence that fuel the epidemic and about the fact that officials do not listen to voices that could guide them in the best practices to widen their scope. "We are the people on the ground doing the work everyday," she said. "Women and girls must be part of every meeting and discussion and not just there to look good in pictures. You have to listen to us."
A presentation made yesterday by Megan McLemore, JD, of the Health and Human Rights Division of Human Rights Watch, shows that current policy in D.C. and other major city's dubbing possession of condoms as criminal evidence of sex work, discourages sex workers from carrying condoms and fuels HIV rates, illustrating how the criminal justice system needs to get on board in better integrating its policies into a comprehensive AIDS plan. "This is prompting sex workers to ask: How can you be handing us a condom on the one hand, and then putting us in jail on the other?" she said.
Indeed, down the hall from the DCC press conference, at a panel discussing turning the tide in the city, panelist after panelist, including NIAD feds, Department of Health big wigs, George Washington University academics and a few community representatives, discussed the advances made in D.C., from a time not so long ago when they had no infrastructure to even compile accurate stats about the local epidemic to today when some of the nation's leading HIV academics are dedicated to studying the epidemic and piloting future national programs to reduce it. However, though everyone touted community involvement and not trying to fight AIDS from an ivory tower, the discussion implied that the current partnership is shallow at best and in no way one of equal voices, giving the impression that the repeated plugs were just lip service to a politically popular theme.
During their clinical presentations, there was no data used about the human right and economic issues or the stigma that fuel new infections and prevent people from accessing or staying in treatment. The community members on hand only mentioned invitations from the AIDS funding powers that be to offer feedback about clinical trials, not a voice in the decision making process. And when asked about housing and the fact that Mayor Gray's response is far from up to snuff, Tiffany West from the D.C. Department of Health said, "Housing is difficult because housing and employment are very structural. We're focused on making sure people who are HIV positive, no matter if they are homeless or homed, have the best treatment and retention. That's the best we can do right now." Luckily we have the DCC and other advocates demanding they up their woefully inadequate game.