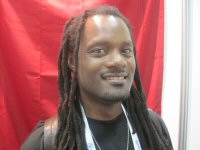 Rob Newells
Living 2012 was the 13th International Conference of people living with HIV. It was held on July 19 and 20 as an official pre-conference to the 19th International AIDS Conference in Washington, DC. These are my reflections on the experience. For detailed information about the conference and its goals, please go to Living 2012: The Positive Leadership Summit.
These conferences always look like reunions to me. People who haven't seen each other since the last conference get together and talk about old times. It can be intimidating to an outsider or a newbie, but I had the same thoughts at USCA in Chicago last November, and -- even though it feels like I'm on the "conference circuit" -- I expect this will end up being worthwhile as well. The bottom line is that, from the beginning, I was looking forward to seeing what I would end up taking from this new experience .
Living 2012 was my first international conference. Having just left Costa Rica where I was the foreigner in a strange land last week, I was particularly sensitive to the folks from around the world who traveled to the United States -- many for the first time. My African and Caribbean brothers and sisters stood out the most for me. We talk a lot about African-American MSM leading infection rates in the United States, so it's easy to forget about all of the other black people around the world who don't have it as good as we do.
Advertisement
After seeing "The Normal Heart" at Arena Stage last night, and looking at panels from the AIDS quilt on display both at the theater and in the conference space, I felt a new connection to the history of this PLHIV (people living with HIV) movement. It still feels (and looks) extremely white-gay-male, but women and people of color in general are well-represented and deeply involved. I would argue, however, that African-American MSM are poorly represented considering what the U.S. epidemic looks like right now ... but did I mention how much I loved being around my African and Caribbean brothers and sisters?
We share many of the same concerns across the black diaspora. The "consultations" link on the Living 2012 website has information about the topics that were covered over the last two days. I felt particularly good about my contributions to the discussion around stigma and faith. (Apparently, that's where my primary interest lies because I tend to stay in the background during most of the other discussions.) I really enjoyed the Living 2012 experience, and I'm already looking forward to seeing these folks again ... hopefully, in Africa!
Robert Newells is the founder of Healing Faith, the HIV prevention program of the Life Care Ministry at Imani Community Church in Oakland, Calif. Rob works intentionally with and through African-American faith communities to reduce stigma and provide culturally relevant HIV information to all Oakland residents.