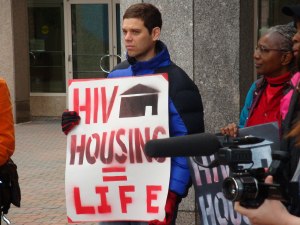 Housing Summit Says to the UN: Put Housing in the AIDS Millennium Goals Now. Photo courtesy of Queerty.
Saturday at the International Leadership Summit on Housing, housed at the World Bank's august glass D.C. headquarters, UN officials, U.S. reps from the CDC, NIH and HHS, academics, and panelists on the grassroots' front line from around the world all concurred: "The data is very clear. The info is in. Housing is one of the most effective interventions for HIV prevention and ensuring access to treatment and care," as Charles King, Housing Works CEO and member of the Summit Series Vision Committee, put it in his opening remarks. The question that remained: How to make the AIDS powers that be put stable housing front and center in their global strategy for an AIDS-free generation and include concrete housing goals in the United Nation's 2015 Millennium Goals.
Stephen Lewis, Co-Founder of AIDS Free World and former Special Envoy for HIV/AIDS in Africa, called the UN to task for its current failures to do so in a keynote address full of dry and jocular jabs at bureaucracy, corporate hypocrisy and various governments. He waived a 140 page recent UN report titled "Together We will End AIDS" in the air as he stood at the podium, stating that he'd trudged through every section, many of them more than slightly incomprehensible, and found not a single mention of housing. "You would think that a document of this kind, more than 30 years into the epidemic, would recognize the integral nature of housing and the pandemic," he said before outlining an international advocacy agenda to ensure such an outrage was not repeated and that the UN put their policy focus where their mouth is.
First, he told the advocates, those based in the U.S. must engage in a full court press to spot light the fact that housing is a human right this election year. "If Secretary of State Hilary Clinton is going to talk about an AIDS-free generation with great pride and if President Obama is going to subscribe to the goal during his World AIDS Day speech, I think you have a right as a social force to confront the White House and say you can't achieve that unless you link one of strongest social determinants with the issue." He went on to state that advocates must not only demand and outline specific targets for housing and HIV in the next set of UN Millennium Goals, but also get it on the agenda of the G8 and G20 and get a resolution about it in front of the UN General Assembly. "That has huge international legitimacy that can be effectively used by civil society at home," he said. Lastly, in an economic climate that has caused funds for international AIDS funds to flat line, don't rest until your government ups its commitment.
Advertisement
UN officials on hand agreed about the need to increasingly integrate homelessness into their HIV agenda. Paul DeLay, UNAIDS Deputy Executive Director, stated that while housing is -- unfortunately -- not currently part of the UNAIDS Millennium Goals for 2015, the org planned to push to include them in the next set, due out that year. "Universal treatment access remains the goal for UNAIDS, but we can't do that without other structural supports including housing," he said. "UNAIDS awaits your guidance, expertise and commitment so we know how to move ahead," he said to the room full of leading housing and HIV advocates from around the world. Michelle Sidibe, Executive Director of UNAIDS agreed about the necessity in his summit remarks. "This last mile in ending AIDS could be very difficult. We need to reach the homeless," he said, adding that other major international AIDS actors, like the Global Fund and PEPFAR, also need to up their housing game, calling those funding mechanisms that do not include housing "obsolete" and stressing that restructuring them is essential.
Multiple panels relayed incontrovertible facts that AIDS cannot be ended without addressing the needs of the homeless, sighting study after study showing that homeless ups risky behaviors and new infections and reduces positive people's ability to access and stay in treatment. De Lay relayed study results showing that Russian Street youth ages 15 to 19 had an astronomically high HIV rate of 37%. One Housing and Urban Development study showed that in the U.S. 4% of people in homeless shelters are HIV positive, roughly ten times the rate in the general pop. David Holtgrave, from John Hopkins, detailed how sound housing policy was also sound economic policy, outlining the huge amounts of money saved by decreasing the need for emergency care or incarceration, when people have a home. "We need to fight to make sure that Congress provides the funding to end the revolving door between shelters, emergency rooms and jails," agreed Shaun Donovan U.S. Secretary of HUD, in a video address.
Multiple panelists pointed out that discussing the right to housing internationally requires discussing gender equality rights, as in many nations women lack the right to own or inherit property, often forcing them to compromise their sexual autonomy to ensure a roof for themselves and their children. "I am a young woman living with HIV in South Africa and it is a struggle to get a house," said Nokhwezi Hoboyi, from South Africa's Treatment Action Campaign. "A woman is not entitled to own a house in some areas of South Africa. I know a case of a mother whose baby was raped and she cannot get the child out of the house because she is dependent on the perpetrator for housing." TJ Ghose, from the University of Pennsylvania, spoke of the response of Indian sex workers in Kalkutta, who have unionized and organized themselves and made sure that all among their ranks have homes. "We don't just need a top down response, we need a bottom up response and to take what is ours," he said. Wanda Hernandez, Chair of VOCAL New York, who is HIV positive, put a face on the reality of life with HIV and unstable housing in the U.S., recounting her struggle with keeping a roof over her head while living on $12 a day in disability and her fight to pass legislation ensuring that all New Yorkers with HIV have access to housing. "I've never had a drug problem, but I have an affordable housing access problem," she said.
In his closing comments, King praised how far the agenda has come since the first international summit on housing and HIV in Mexico City four years ago that lasted just 90 minutes to Saturday's, which lasted all day and featured both the Executive and Deputy Directors of UNAIDS, along with other AIDS luminaries. He ended by introducing Jimmy, a young HIV positive man from Haiti, who, after the hurricane, when he was still a teenager, found himself abandoned by his family and without a home or access to medication, until he happened upon Haitian AIDS activist Esther Boucicault, who made her home his. Today, he's not only on meds, he's in school. "Jimmy is the face of homeless and AIDS and shows the difference nutrition and a home makes in life of person living with AIDS. It's the stark diff between death and a future. That's why we gathered here today," he said. "I call on us to lead the fight together until every person living with HIV and AIDS and every marginalized person at risk has secured not just the right but the reality of a safe secure place to live."