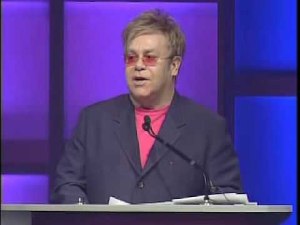 Photo courtesy of Yahoo Daily News.
Today, in the opening hours of the 19th International AIDS Conference, singer and AIDS activist Elton John and Phill Wilson, head of the Black AIDS Institute, both called for positive people around the world to step up and disclose their status publicly, to both fight stigma and misperceptions about life with HIV. Sir Elton, wearing his signature shades, gave hip hop artist Jay-Z a shout out for endorsing gay marriage and, as he put it, "causing the dominoes to fall in the African American Community," sparking the endorsement of gay marriage by the NAACP and Colin Powell. He argued that more high profile HIV disclosures could have a similar positive impact on AIDS. "It would be great if HIV positive people could stand up and be counted. We haven't had someone since Magic."
Phill Wilson, in his rousing speech before Hillary Clinton took the stage, disclosed his own status as an HIV-positive gay black man, adding he can now include senior to his list of checked boxes, but saying that there were many boxes he could not check and that AIDS could not be ended with the loud and proud voices of reps from all those groups. "Everyone living with AIDS must come out," he said. "It confronts stigma and increases demand for civil society. When you come out you not only save your live, but ours as well." He then said that stigma and fear contributed to the lack of demand for testing and treatment, which fuels new infections and AIDS diagnosis, and contributes to the fact that in this, the richest nation on earth, only 25% of positive people are in effective treatment. "It's in the caring, loving and fighting that we can live forever," he said. "Together we are greater than AIDS."

This article was provided by
Housing Works
. It is a part of the publication
Housing Works AIDS Issues Update
. Visit
Housing Works' website
to find out more about their activities, publications and services.
(Please note: Your name and comment will be public, and may even show up in
Internet search results. Be careful when providing personal information! Before
adding your comment, please
read TheBody.com's Comment Policy
.)