Elton John and Phill Wilson Call for Public HIV Status Disclosures Worldwide
July 23, 2012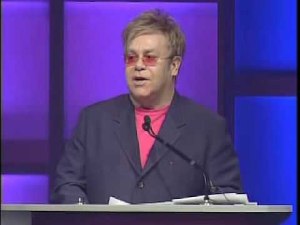 Photo courtesy of Yahoo Daily News.
Today, in the opening hours of the 19th International AIDS Conference, singer and AIDS activist Elton John and Phill Wilson, head of the Black AIDS Institute, both called for positive people around the world to step up and disclose their status publicly, to both fight stigma and misperceptions about life with HIV. Sir Elton, wearing his signature shades, gave hip hop artist Jay-Z a shout out for endorsing gay marriage and, as he put it, "causing the dominoes to fall in the African American Community," sparking the endorsement of gay marriage by the NAACP and Colin Powell. He argued that more high profile HIV disclosures could have a similar positive impact on AIDS. "It would be great if HIV positive people could stand up and be counted. We haven't had someone since Magic."
Phill Wilson, in his rousing speech before Hillary Clinton took the stage, disclosed his own status as an HIV-positive gay black man, adding he can now include senior to his list of checked boxes, but saying that there were many boxes he could not check and that AIDS could not be ended with the loud and proud voices of reps from all those groups. "Everyone living with AIDS must come out," he said. "It confronts stigma and increases demand for civil society. When you come out you not only save your live, but ours as well." He then said that stigma and fear contributed to the lack of demand for testing and treatment, which fuels new infections and AIDS diagnosis, and contributes to the fact that in this, the richest nation on earth, only 25% of positive people are in effective treatment. "It's in the caring, loving and fighting that we can live forever," he said. "Together we are greater than AIDS."
---

This article was provided by
Housing Works
. It is a part of the publication
Housing Works AIDS Issues Update
. Visit
Housing Works' website
to find out more about their activities, publications and services.
---
Comment by: Mike
(Washington, DC) Thu., Jul. 26, 2012 at 2:39 pm UTC
Elton is not poz. Phil is poz. Phil knows too well the American south and stigma that follows in a person's home and religion. Would he be able to take in all of these cast out from their families? As for Elton, he has been to places most of us haven't. I am sure he is aware of the many locations where to disclose means death by murder, executions, etc.
How could they espouse this?
Comment by: John Doe
(Anytown, USA) Thu., Jul. 26, 2012 at 2:21 pm UTC
It's easy for someone whose livelyhood isn't threatened by disclosure to recommend coming out.
Comment by: ROLLING EYES
Thu., Jul. 26, 2012 at 5:19 am UTC
Just what we need, ANOTHER PERSON WHO DOESN'T HAVE HIV TELLING US HOW TO DEAL WITH IT
Replies to this comment:
Add Your Comment:
(Please note: Your name and comment will be public, and may even show up in
Internet search results. Be careful when providing personal information! Before
adding your comment, please
read TheBody.com's Comment Policy
.)
Please note: Knowledge about HIV changes rapidly. Note the date of this summary's publication, and before treating patients or employing any therapies described in these materials, verify all information independently. If you are a patient, please consult a doctor or other medical professional before acting on any of the information presented in this summary. For a complete listing of our most recent conference coverage, click here.