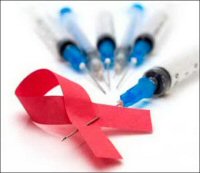 Advocates say flawed drug policy and fear of harassment and arrest keep black and Latino drug users from the clean needles they need to stay HIV-free.
The New York City Police Department's Stop and Frisk program has been called "The new racial profiling." In light of studies finding that in 33 of the city's precincts, 90 percent of people stopped were Black or Latino, and that 90 percent of those were innocent, activists from coast-to-coast have protested the program's disparate impact on people of color.
The New York Civil Liberties Union called it a demonstration of the "alarming extent to which the NYPD is targeting innocent Black and brown New Yorkers."
But for Black and Latino people who use drugs, that policy -- under which officers search anyone they suspect of having a firearm -- combined with widespread law enforcement disregard of the state's allowance for those enrolled in syringe access programs to carry syringes, can be a death sentence, according to Bobby Tolbert, 53, of the New York City advocacy nonprofit, Vocal NY.
On Monday, at AIDS 2012, the 19th International AIDS conference here, Tolbert and other activists discussed the role drug policy and law enforcement plays in HIV prevention among drug users of color. They made their observations during a session co-coordinated by the nonprofit Harm Prevention Coalition.
Their consensus: What's widely deemed the "War on drugs" is actually a "War on people who use drugs." And in that war, Black and Latino intravenous drug users are losing the battle when it comes to one of the most well-established and simple methods for preventing transmission of HIV between: the use of clean needles.
Advertisement
For two decades, syringe access programs have promoted safe syringe use and disposal practices in New York. While syringe possession is normally a misdemeanor under state law, public health exemptions allow them to operate. This legal loophole was conceived specifically to allow intravenous drug users access to clean needles, in an effort to prevent the spread of HIV and Hepatitis C.
It's a good plan, in theory. But, Tolbert explained, the programs don't work if people don't use them, and people don't use them when they fear that on their way to collect clean needles or drop off dirty ones, they'll be racially profiled, stopped and frisked, and harassed or arrested by police for possession of the very paraphernalia the law allows them to possess.
According to, Stuck in the System: Expanding Syringe Access by Reconciling the Penal Code with the Public Health Law, a study by the Vocal NY User's Union, Urban Justice, and the New York City AIDS Housing Network found in a survey of syringe exchange program (SEP) participants that 77 percent had been charged with unlawful syringe possession (with 9 out of 10 carrying SEP cards documenting their participation when they were arrested); and a third who were arrested said they either stopped using SEP or went less often as a result of the experience.
"It's tougher. I don't want to get caught again, so I don't go as many times [to the SEP], " one survey responded said, according to the reports.
According to Human Rights Watch data he presented during the AIDS 2012 session, more Whites use drugs than Blacks or Latinos, but most people who use drugs in the criminal justice system are Black and Latino.
Those dynamics, he says, are behind the harsh bottom-line statistics: In New York, almost 9 in 10 new HIV infections among those who inject drugs are black or Latino.
Vocal NY has recommendation fueled by its research, including legislation that fully removes syringe possession as a misdemeanor under the state's Penal Code and the issuance of law enforcement guidance instructing that syringe possession is not probable cause for a search, and that supplies and information acquired through SEP programs should not be confiscated.
If you ask Tolbert, action on those recommendations can't come soon enough. "The stigma around drug use is so high that police believe they're doing the right thing," he says. "But they're actually making Blacks and Latinos afraid to practice harm reduction. Eliminating that fear is what we have to do."
Even if police tactics were eliminated as a concern, there would still remain the simple issue of lack of funding for clean needles, says Sharon Stancliff, 55, of the Harm Reduction Coalition, an organization whose mission is to support the health and well being of people who use drugs.
In 1988, Congress instituted a ban on federal funds for syringe access. It was lifted in 2010, but reinstated in 2012. This doesn't mean people cannot privately purchase and give out syringes, Stancliff explains, but it has served as "ammunition" for the places that don't have syringe access, and aren't inclined to do so.
"Many of those places are in the South, so we're talking about lots of people living in poverty, and lots of people of color," she says.
Stancliff concedes that needle exchange programs' approach -- making intravenous drug use safer versus stopping it -- is "a really hard sell for many people," despite the evidence that it is effective in stopping the spread of disease.
And of course, there's the public perception of who the programs serve. But that, Stancliff predicts, might be changing. "It's going to be interesting because we're now seeing Hepatitis C among white youth living in suburbs. Also, gay white men have proven themselves to be great at policy issues. So if they begin injecting amphetamines, as it seems they may be, this may bring the issue of the value of needle exchange programs to the forefront."
Jenée Desmond-Harris is a staff writer at The Root.