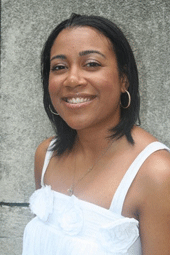 Kellee Terrell, News Editor for TheBody.com
So, I won't lie: Waking up this Sunday morning wasn't easy. My intention to wake up at 6:30 a.m. in order to go running in the hotel fitness center turned into me waking up at 8 a.m. with Becky Allen, our site manager, laughing at me as she left to get breakfast.
I mean, hey, I was exhausted, and that's scary, because the conference hasn't really started yet.
But I digress.
After breakfast, the reality hit me: I still had work to do, which means I spent some of our morning in the hotel room, catching up on work email (that I hadn't really checked since Thursday), filing articles about AIDS 2012 and updating my Twitter page with a vengeance.
In the early afternoon, Becky and I set out to the convention center to tend to TheBody.com's booth and talk with advocates and people living with HIV who are unaware of TheBody.com and its mission. This is actually one of my favorite parts of the job. I love communicating with the community, talking about all of the amenities on our sites, signing up new people to our weekly newsletters and, most important, listening to people express their appreciation for the work that we do every day to disperse critical and lifesaving information to the community. I can never get enough of those stories, because I find that sitting at my desk writing stories is great, but I sometimes feel disconnected from the community and unaware of the impact that I have. And that face-to-face interaction reminds me that I do make a difference, small or large.
I don't know about you, but it's those instances that push me further to do this work.
What also pushes me to do this work is listening to advocates talk about how HIV impacts women around the globe. So, when I could break away from the booth, I attended an interesting session called Women and Girls Turning the Tides. It was great that Françoise Barré-Sinoussi, France, (IAS president-elect) was there talking about how AIDS 2014 in Melbourne, Australia, was going to be different and that women were going to have more of a force there. She even joked about how women were better at organizing than men.
One of my favorite panelists was Jantine Jacobi who serves on the UNAIDS' Gender and AIDS Team. She talked about how, yes, women are biologically more vulnerable to HIV, but that is such a small part of what is fueling HIV in women around the world. For her, the answer was simple. This is about gender oppression, violence and sexist policies.
"Instead of young girls being able to experiment with sexuality and be carefree, they have to deal with HIV. And to make matters worse, they are blamed for HIV by society and local politicians for being sexually open." Jacobi emphasized that the responsibility of HIV infection needs to be shared with men as well, especially given that so many women are not the ones making the decisions about condom use and sex in their everyday lives.
Advertisement
"It's unacceptable that women don't have sexual autonomy over their own bodies," she said to the crowd.
This panel was a constant reminder of just how serious gender oppression is and how, in many instances, the male leaders who make the policy and funding decisions fail women and girls far too often.
After that session ended, hundreds of people lined up to attend the opening ceremony, and what a line it was. I opted to spare myself the drama and watch it live online and look to Twitter for key quotes and themes being conveyed.
The opening ceremony had an impressive line-up of speakers, including UNAIDS' Michel Sidibe, Rev. Charles Straight from Washington, D.C., Annah Sango of Zimbabwe, U.S. representative Barbara Lee (D-CA) and World Bank president Jim Yong Kim. While I appreciated the uplifting phrases about "how we can end AIDS" and "have an AIDS-free generation" and "how we must include women, because without us, there is no us," overall I was annoyed by it.
Don't get me wrong, this type of rhetoric serves a small purpose, if only to reaffirm. But it is 30 years into this epidemic, so for us to be talking about how we need to include women and address gender oppression seems late to the party and like lip service. Because, let me be clear, telling me that women matter and nothing happens without them means very little to me when it was just a few months ago that the original cast of AIDS 2012 plenary speakers was released and there wasn't a positive woman on the list. And let's not forget the incredible amount of advocacy that women-centered HIV organizations had to go through to pressure the IAS to include more women at this year's conference.
Obviously, things can be done without women and often are.
In the end, I want for IAS and these high up HIV leaders to understand that this mainstream lofty rhetoric should only really exist if progressive, radical change is ushering it. So, in other words: Don't talk about it, be about it.
FYI: I am covering different workshops and events throughout the week in addition to blogging about my own personal experiences at AIDS 2012. Not to mention, I am live tweeting from the conference, too! Follow me: @kelleent.
Read the first entry in Kellee's "Notes on a Conference" series.
Kellee Terrell is the former news editor for TheBody.com and TheBodyPRO.com.
Copyright © 2012 Remedy Health Media, LLC. All rights reserved.